We are looking for a new team member to help us in our work activating systems change, with the ultimate vision of a transformed economy that is just, inclusive, resilient, and sustainable.
Your primary focus as Coordinator, Communications and Engagement, is in supporting the RADIUS team through the development and implementation of creative, compelling media and communications, such as promotional program visuals, social media graphics and copy, program booklets and reports, infographics, and more, as required by the RADIUS program teams. As well, the curation of our quarterly e-newsletter and channel story-telling.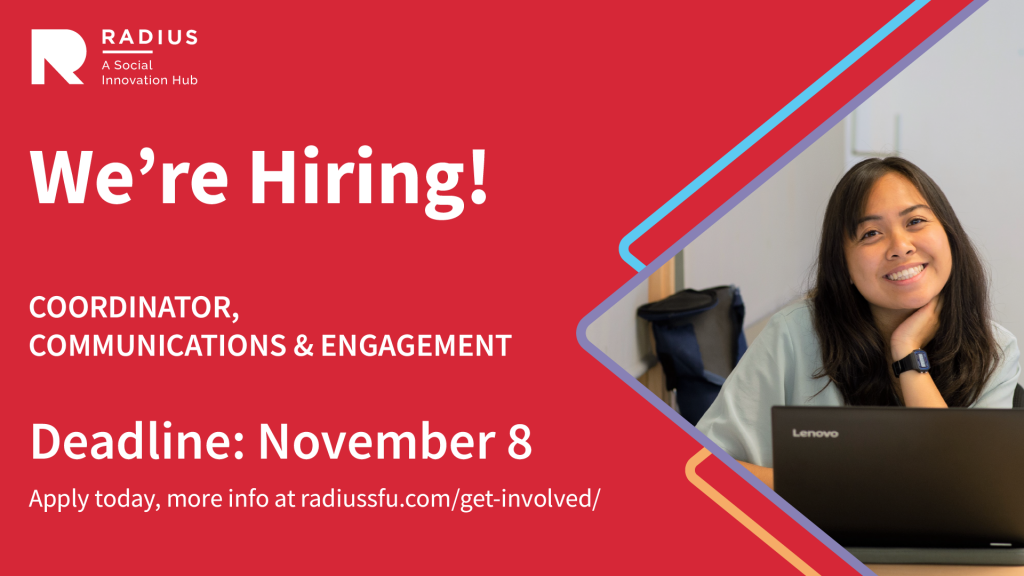 In the coming months, when it is safe to do so, the Coordinator will also work closely with program teams and staff to develop and deliver engaging workshops and events for alumni, community, and larger network, all in service of deeper engagement and knowledge mobilization. 
We are looking for someone who can maintain the day-to-day logistics of our social media and website, curate content for various channels, and who has an interest in content development in a variety of mediums. Most importantly, we are looking for someone who centres equity in their work, who aligns with our core principles, and who understands the importance of the work we're doing is in service of our vision of a transformed economy.
For full details about this role, please see the job posting here. Please note that we will be contacting shortlisted candidates only.
Applications close Nov 8, 2021.