This blog was written by the founders of Finding Present, recipients of SFU Social Innovation Seed Funding in 2021. (Authors: Gabrielle Wong, Anisha Biswas, Puneet Chhina, and Catherine Wong)
Art is a powerful tool for raising awareness about the issues that matter to us, creatively expressing ourselves in healthy ways, and sharing our passions with others. When our organization, Finding  Present, first met, we knew we wanted to harness this power for social good. How could we,  as young artists, use our skills to help others, especially while also dealing with pandemic restrictions? Answering this question led to 'a find for you', the project we're excited to share with you today.  
We designed themed boxes with artistic items and stress-relieving activities for youth in our community. Through promoting artistic pursuits and introducing youth to the world of art, we wanted to promote wellbeing and invite them to join our community of supportive artists.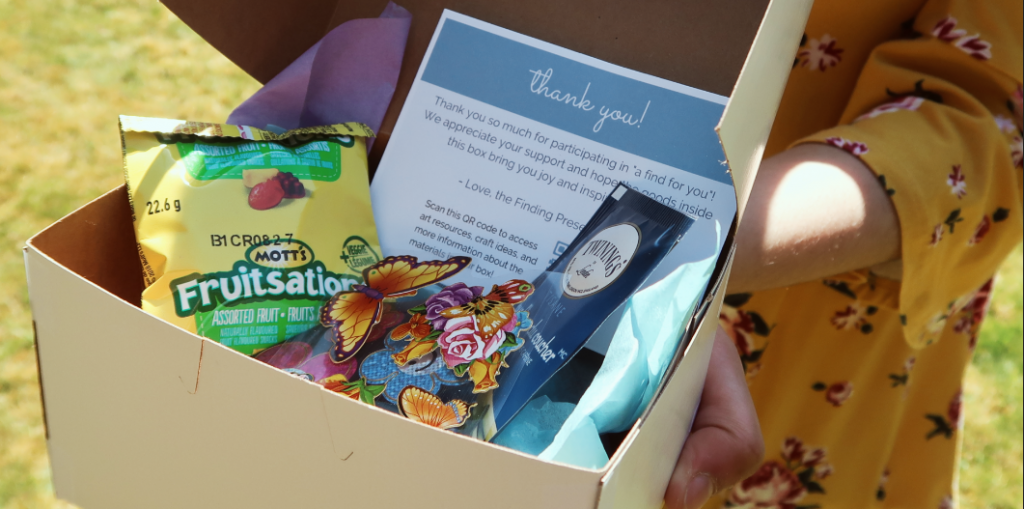 Especially during COVID-19, many young artists have been isolated from their peers. This makes it harder to collaborate and find guidance from a community of supportive artists. We know how difficult keeping youth groups and clubs going is amidst COVID-19 restrictions. Compounding this challenge, many aspiring artists lack the materials required to create art, as it can be expensive to get started.
To combat all of these issues, our boxes provide people with the physical supplies needed to get started in a field of art. Beyond the physical box, we put together a page of resources and tips for each box. We hope the youth who receive a package use it as a stepping stone to community involvement by joining our hub of artists, where we'll build social connections between creators like us, provide various art-related volunteering opportunities, and more.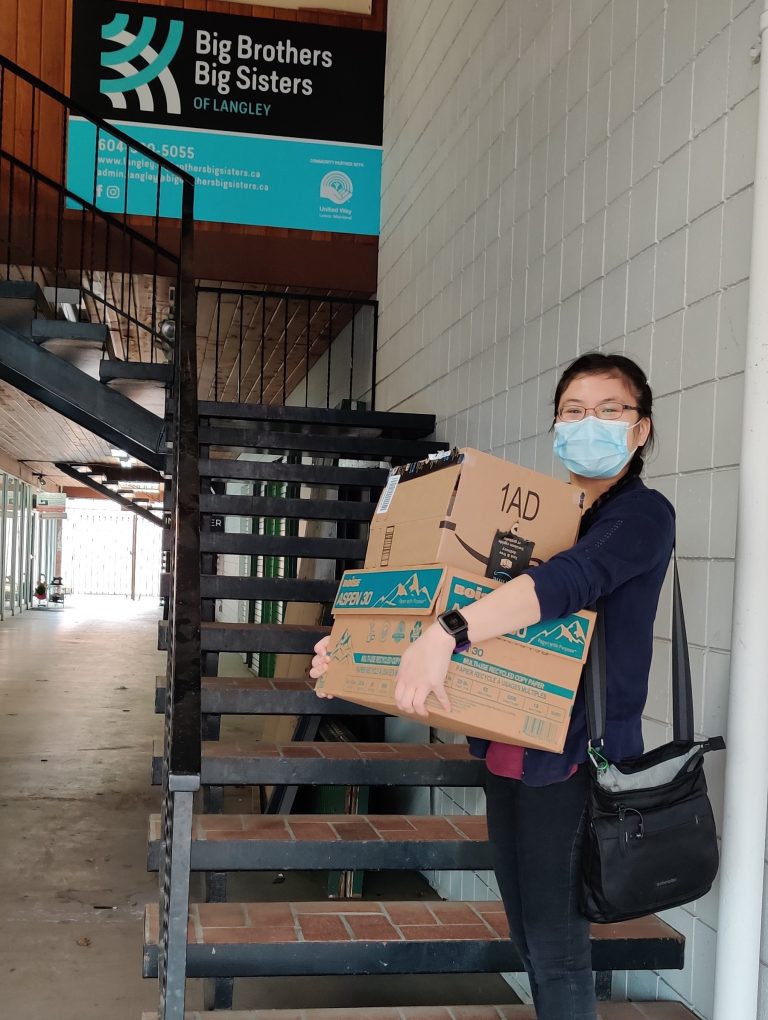 We started our project process with community consultation. We wanted to make sure that our boxes would be useful to the youth who would receive them, so we reached out to various organizations that serve youth in our area. With their feedback, we were able to refine our ideas and tailor them to what youth might be looking for.
Talking to others in our community also helped us address a central challenge of this project: how would we get the boxes to youth who could benefit from them? We discovered through a pilot project last summer that postage is expensive, and we knew that not everyone would be comfortable giving us their mailing address. That's where Big Brothers, Big Sisters of Langley and the Langley Youth Hub stepped in.  
Once we knew where the boxes were going, with the help of SFU Social  Innovation Seed Funding, we designed five different boxes and purchased high-quality supplies for all of them. To make the boxes extra special, we also included some handmade components. For example, our boxes geared towards younger students include crocheted keychains, and the logos on the boxes were designed by our youngest team member, Catherine Wong, who has a passion for digital art. Lastly, we met (outside,  masked up!) to put together the boxes as a team.
We crafted sixty boxes with five different box themes. Two of the box themes (safari and fantasy) are geared towards younger students, whereas the others (bullet journal, water colour, and sewing)  are more suitable for older youth. The boxes have handcrafted items, art supplies, and snacks to  munch on while crafting. We're super proud of the boxes and excited for them to reach youth all around Langley!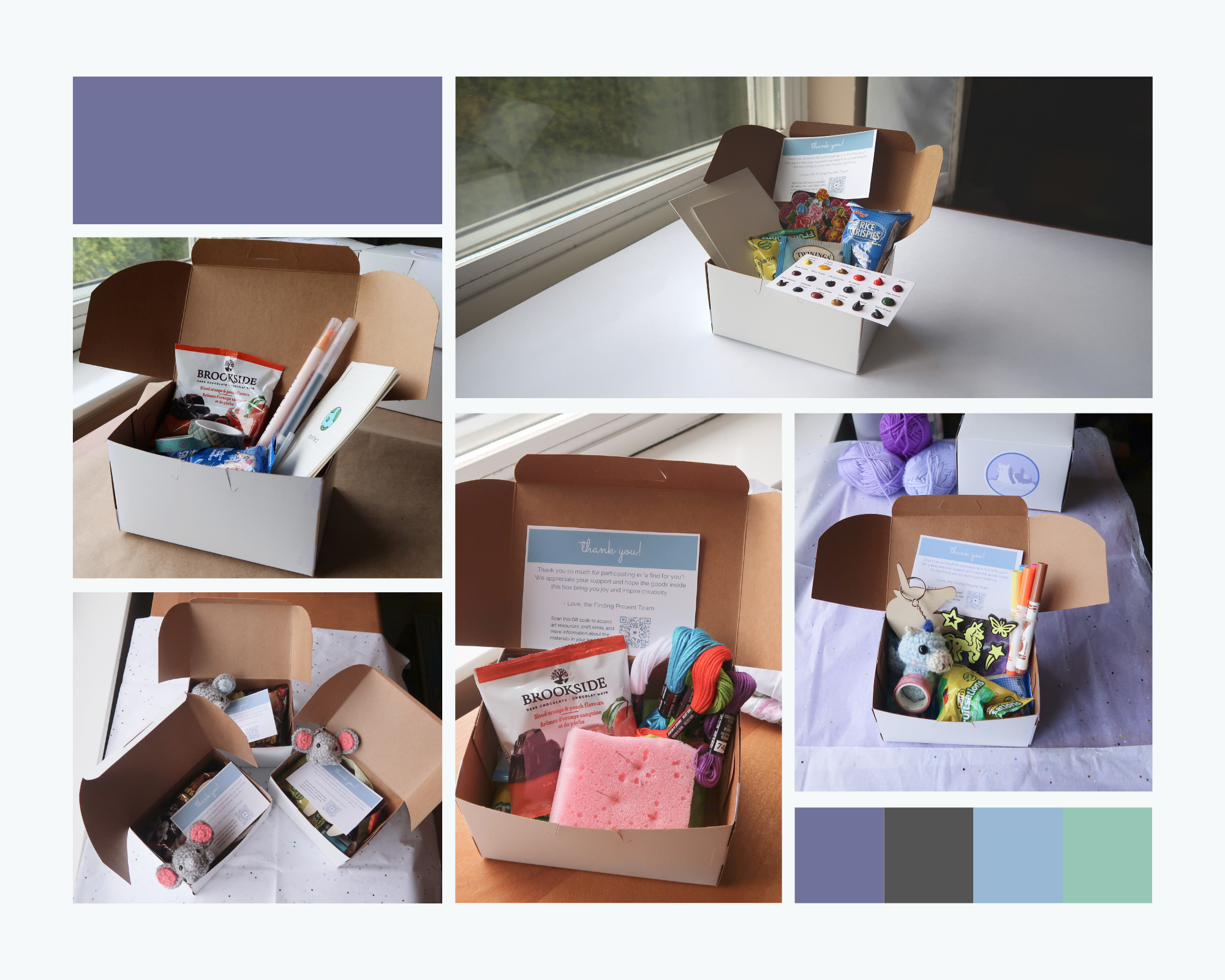 Now that 'a find for you' is wrapping up, we're looking towards continuing to develop our youth artist community and providing more opportunities for artists like us to use their skills for social good. This experience has been engaging, exciting, and educational for all of our team members.  We're grateful to all the other organizations and people who helped us along the way.  
Finding Present is a youth-run organization centred on using art for social good. They are dedicated to connecting youth in their community. Through their accessible resources, the promotion of art as a  creative outlet, and their (currently in-progress!) community platform, they hope to build safe spaces that invite youth artists from all walks of life to interact and grow in a judgement-free, equitable environment. More information at their Linktree here: https://linktr.ee/findingpresent.