Decolonizing Practices' project Sínulkhay and Ladders was recently awarded Social Innovation Seed Funding. Co-hosted by RADIUS and Embark Sustainability, the Social Innovation Seed Fund allocates up to $1,500 towards change endeavours initiated by SFU students. In this article, we interview Michelle Nahanee, Founder of Decolonizing Practices.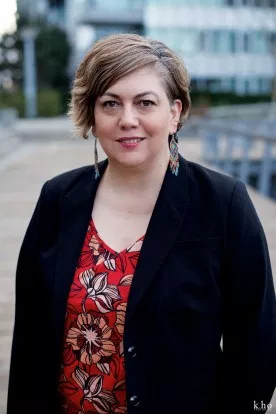 Michelle Nahanee. Image courtesy of K. Ho Photography
As a member of the Sḵwx̱wú7mesh (Squamish) Nation, Michelle Nahanee has witnessed the Indigenous reconciliation landscape unfold before her eyes. With deep interests in Indigenous cultural sovereignty, the importance of reclaiming language, and deconstructing neocolonialism, Michelle became determined to combine her work experience as an Indigenous communications designer with her passion for social change in more impactful ways.

Michelle enrolled into the Master of Arts (MA) in Communication at SFU, where she accessed the knowledge she needed to amplify Squamish ways of knowing, communicate invisible power structures, use her language, and leverage her design skills.

"In the last term of my program, I was invited to present an interactive workshop on decolonizing practices at the EMMA Talks event I curated called Squamish Matriarchs" Nahanee explained.

At the feminist speaker series and art festival, Nahanee introduced her research-creation project called Playing Post-Colonial: a Decolonizing Activity Book for the Woke and the Weary. The centre spread features Nahanee's board game, Sínulkhay and Ladders. Nahanee describes the inspiration for the game coming from a course she co-taught at SFU called Decolonizing Dialogue. She recalled often using the metaphor of 'snakes and ladders' to explain how decolonizing can often feel nonlinear, like one step forward and two steps back. From this metaphor and other experiences emerged Sínulkhay and Ladders — a giant 8-ft board game.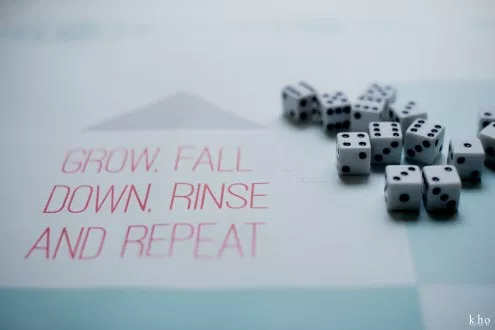 Image courtesy of K. Ho photography
"The [decolonization] process is very up and down. Sínulkhay and Ladders provides a container to acknowledge space, mistakes, and a commitment to do better. The last thing I want is for anyone to stay in the shame of colonialism. We all need to stay in the game."

The focus of Sínulkhay and Ladders is to strengthen Indigenous to non-Indigenous relations in professional settings, making sure we are holding each other up and not sliding down the double-headed serpent, called 'Sínulkhay' by Squamish. 

It also promotes the Squamish practice of Chen chen stway (holding each other up) while calling out neocolonial scenarios of oppression.
"Each person leaves with both a takeaway, something they learned, and a giveaway: their commitment to decolonizing practices," Nahanee elaborated.

Memorable giveaways include commitments to hiring more Indigenous people, breaking open constructions around identity, and thinking of land ownership and wealth differently.

"This is largely individual healing work," Nahanee explains.

"It's never-ending."

Michelle Nahanee is offering two upcoming summer workshops, including sessions on July 26th and August 23rd. Registration is open via Eventbrite. She is also in the process of expanding her collaborative team of Indigenous and non-Indigenous facilitators, developing a social impact fund from workshop proceeds, and designing an Educator Kit to train teachers on how to present Sínulkhay and Ladders in their classrooms. 
Staying true to the notion of "stewardship-over-scale", Nahanee is eager to explore different audiences who could benefit from workshop trainings, and she also recognizes the importance of approaching each intentionally, building community along the way.

To learn more about Sínulkhay and Ladders, visit Michelle's website, Decolonizing Practices.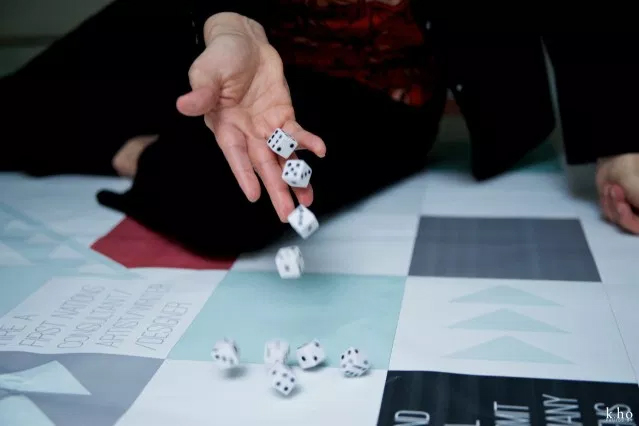 Image courtesy of K. Ho Photography