This piece was written by: Christiana Onabola, Sean Celi, Sujata Lama, and Trisha Dulku and edited by Xiaoyi Zhu. Header photograph: Timon Wanner.
In March, the RADIUS Refugee Livelihood Lab wrapped its third cohort of the Trampoline: Ideas into Action! program. Several participants from the program looked back and reflected on their twelve-week-long learning journeys. Christiana Onabola, Sean Celi, Trisha Dulku, and Sujata Lama collaboratively created and edited these writings.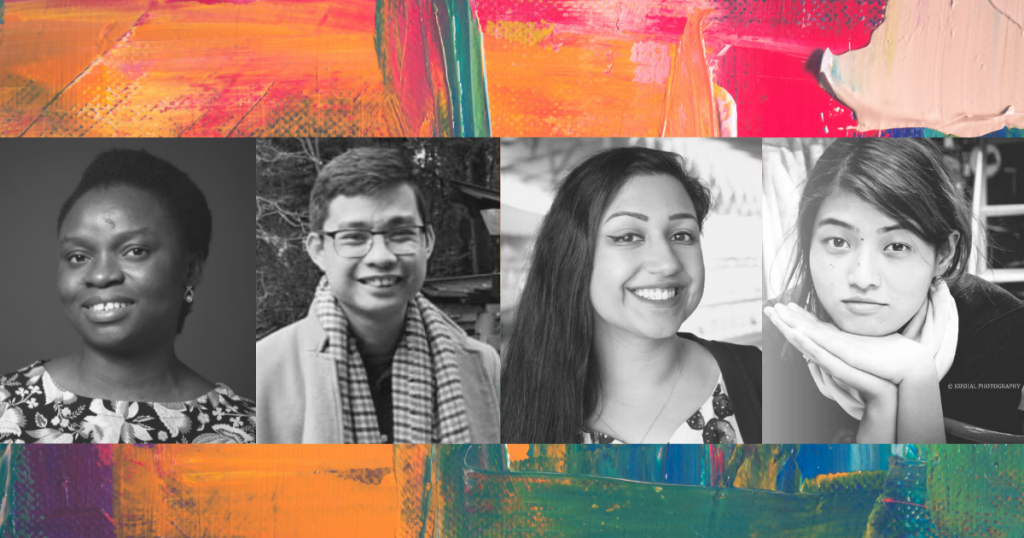 Tell us about yourself and your motivation for joining Trampoline.
Sean: I joined Trampoline because, as someone who works with newcomer youth, I wanted to learn more about addressing community issues in an equity-centred way and learning more about community-based design.
Trisha: I live, work, and learn on the traditional unceded territories of the Semiahmoo, Katzie, Kwikwetlem, Kwantlen, Musqueam, Qayqayt, Tsleil Waututh, and Tsawwassen First Nations. As a child of immigrant parents and the eldest daughter in a Punjabi household, my story echoes many others within the South Asian community whose parents immigrated to Canada to build a better life and provide an opportunity for their children. 
A big part of my "why" in joining Trampoline is to help other women from immigrant upbringings, specifically with financial literacy, because of gendered narratives around money management. 
Christiana: I am Black, of African origin. I moved to Canada in 2016 as an international student. I am grateful to live and work on the unceded, traditional territory of the Lheidli T'enneh First Nation in Prince George. 
I envisioned the Trampoline course to hone my then-burgeoning ideas around an initiative to execute an environmental concern to counter the garbage out, a throw-away mindset that is so rife in Canadian culture. 
Sujata: I was born and raised in Kathmandu, Nepal. I moved to Vancouver in 2015 and am currently working in commercial banking. I am passionate about exploring immigrant experiences amongst BIPOC communities. You will find me hiking or trying out new restaurants around Vancouver in my free time. 
When I first moved to Vancouver, finding employment within my intended industry through the right network/connections was one of the major struggles. I eventually realized that it was an issue deeply rooted within systems. Having been through the process personally, I understand the frustration of such systematic barriers and would like to address this gap. That ultimately led to my participation in the RLL Trampoline program. 
How has the program transformed your ideas or projects, and what are your next steps?
Sean: I am more energized to tackle projects and less afraid/anxious about changing parts of my project idea! My idea transformed from a one-time static survey into a more dynamic fellowship program for newcomer youth. I am currently in the middle of seeking funding and planning our recruitment for the Fellowship!
Trisha: Many women are groomed to believe their self-worth is tied to their ability to marry and run a home. They are not empowered to think about financial independence. Instead, they are taught to be financially dependent on a future partner or a male figure. I want to disrupt this narrative and empower women to build wealth.
Christiana: The program has awakened me to an equity consciousness in designing my project and the need to address equity-related concerns underlying my project interests and the approaches I take.
Sujata: Through my community conversations, I learned that I want to create a hub of network amongst immigrant communities by launching a podcast. The podcast would invite guests with diverse interests to talk about their experiences, background, stories, barriers they faced, and their versions of success. I hope listeners can resonate with guests' stories and connect with them if they are of similar backgrounds. Such a mesh of connections serves as a force for impacting change, and celebrating diversity, while also addressing the knowledge gaps related to employment. 
How did participating in the program impact your personal and professional development?
Sean: First, the people in my cohort were all so friendly and inspiring. I loved being supported and empowered by them! Second, I now approach my personal and professional life differently. I now find myself actively seeking more input from my friends or colleagues before making a decision. 
Trisha: Learning about Equity Design and the importance of integrating Equity Pauses into the scope of project development and program implementation was an incredibly transformative moment for me personally and professionally. 
Christiana: I have been armed with tools to unpack often-masked details and dynamics around my initiative, particularly the populations and communities I serve and other foundational questions pertinent to my project's long-term sustainability.
Sujata: Working on this project can be considered a creative outlet for expressing and venting my personal experience of migration. After learning about the history of residential schools and the oppression of Indigenous communities, it is a way to reconcile and make peace for me "being a Canadian." 
What are some of your key takeaways? 
Trisha: The program made me realize the importance of breaking out of the cycle of doing and stopping and taking stock of ensuring that the project always focuses on centring the user and their experience.
Christiana: In a nutshell, the program has helped me be a better interviewer, listener, and project/program administrator. In terms of key take-aways, I seek to keep pushing for an equity-centred design and lots of community collaboration in my work.
Sean: One of our advisors best summarizes my takeaway from the program: "Fall in love with the problem, not the solution!"