An Intro to the 2020 RADIUS Health Promotion Lab Trampoline Business Validation Model Program
Dear reader,
Where do we even begin?
The past few months have been a whirlwind, as the COVID-19 pandemic continues to exacerbate the social and health issues of our society. It's been devastating to witness its impact as we simultaneously grapple with the realities of our "new normal". 
As the Health Promotion Lab aims to connect with health equity seeking innovators and communities looking to address chronic disease prevention, we grappled with how a pandemic of this nature further impacts underserved communities. 
How will COVID-19 drive health disparities that are experienced by communities disproportionately impacted by health inequities- communities we are from and strongly connected to? How can we work together in solidarity to address these impacts? 
These are questions, tensions, and realities we'll continue to explore while also meaningfully engaging and supporting our cohort and one another. Not only are we experiencing a pandemic that is exacerbating health disparities, but we're also seeing a global movement to fight for liberation. We cannot be divorced from these complex realities.
As we work towards our vision of a society where health and wellbeing are community driven and equity-centered, we hope our Trampoline Business Validation Model Program serves as a means of doing so. By centering health equity and sustainable business models throughout the program, we hope to support early-stage ventures to bring forth solutions that address chronic health inequities.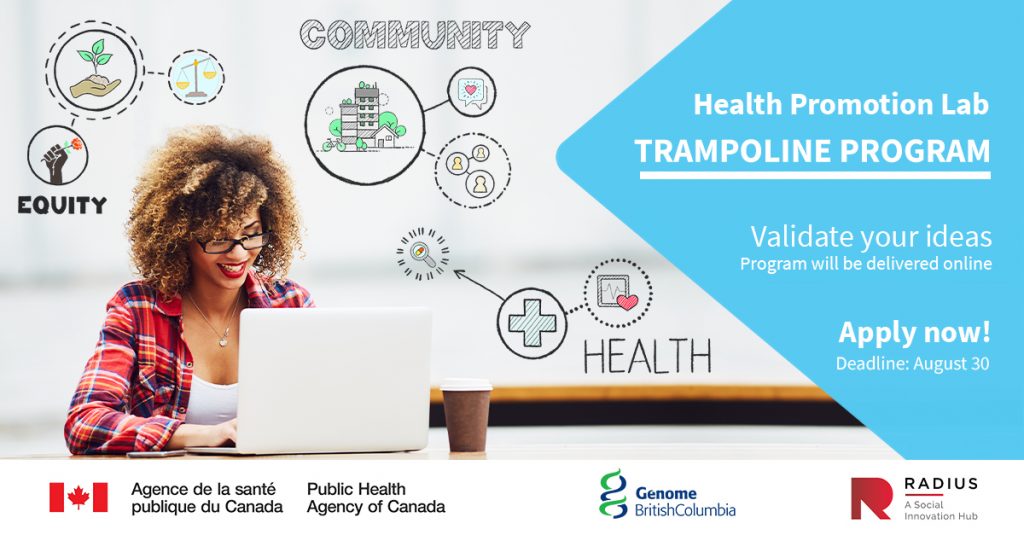 This year, we'll be shifting our program delivery from in-person to online, and don't worry, we promise to make it as engaging as possible! Well as engaging as a program can get online :) We hope to remain connected and work alongside changemakers, innovators and, emerging community leaders. So if this sounds like you, make sure to apply before August 30th! *Edited to add: deadline has been extended to September 10th. Apply now!*
If you'd like to learn more, I'd invite you to lean into that curiosity and don't hesitate to reach out!
Sincerely,
Ilhan Abdullahi
The Health Promotion Lab Trampoline Business Validation Model Program is supported through funding from the following partners: