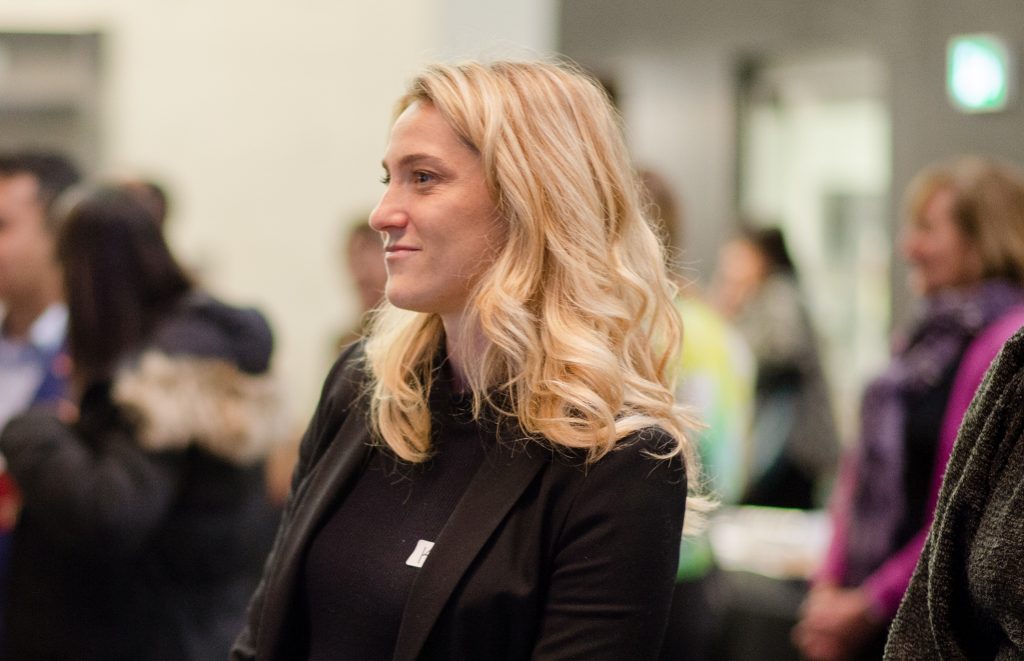 In April 2019 our co-founder and director Shawn Smith began parental leave, and in his place, Kiri Bird will act as acting director from April – December 2019. We're excited to welcome Kiri into this role, and below is a little more about her work at RADIUS and what she'll get up to in this role.
Kiri's permanent role at RADIUS is Associate Director of our Labs & Ventures portfolio. Over the past 2 years she has helped to define and lead our organizational change efforts around blending entrepreneurial education with a systems change focused social labs model. For more information on our new strategy and 'Venturing in service of systems change' methodology, go here.
Kiri joined RADIUS officially in 2014, while completing her graduate studies at SFU in Resource and Environmental Management. As a student, Kiri was on the board of Embark, and helped to develop the Student Social Innovation Seed Fund that RADIUS oversees today.
Shortly after graduating, she founded the Local Economic Development Lab, RADIUS' first social innovation lab project, working towards a more vibrant and inclusive local economy in the Downtown Eastside. Building this program in partnership with community organizations including Potluck Cafe Society, the Binners' Project, EMBERS, Exchange Inner City, the City of Vancouver and more was both challenging and very fulfilling. Over 3.5 years LEDlab helped to grow or launch 11 social enterprise or service delivery innovation projects, and provided over a thousand hours of capacity building training to community organizations. One of the highlights that Kiri notes was also supporting the co-creation of a Community Economic Development Strategy for the DTES with more than 30 partner organizations and the City of Vancouver.
Kiri also participated in the Alt/Now project of the Banff Centre in 2016 focused on economic inequality. Since then, she's wanted to spend more time working upstream on the systemic factors that drive inequality, which she luckily gets to do through RADIUS lab programs, including barriers to refugee and newcomer social and economic integration; how Indigenous entrepreneurship can contribute to a reconciliation economy; chronic disease prevention; and the relationship between technological wealth and inequality.
During her time as acting director, Kiri is looking forward to:
Starting to build our Future of Work lab (staff announcement coming soon!) this summer, and is very excited by the energy and alignment around this topic at all levels of government, and amongst many civic leaders and community members.

Enhancing our custom workshop and training services. We are increasingly supporting values aligned organizations with curriculum design and facilitation either for strategic planning efforts, new project proposals, supporting entrepreneurial ecosystems, or running entire social innovation labs. For more information or to get in touch, visit

here

.
When asked what she's most proud of working on at her time with RADIUS, Kiri said, "I am most proud of the team we've built at RADIUS, especially in the last year or so.I feel grateful to be working with such committed, knowledgeable, and connected community leaders. We've been doing a lot of foundational work this past year to get clear on our vision, principles, and KPIs, so I am excited to live into these words in a meaningful way, and continue to evolve our commitments to economic transformation."