Coming into its tenth anniversary, we reflect on the legacy of Change Lab and why we're putting it on hold for the upcoming academic year.
Change Lab began in 2011 as an experiment in undergraduate education. It was born when two SFU undergraduates challenged their university to give students a chance to engage with the problems that they were passionate about—not just write essays or give presentations, but work on real solutions. With support from the Faculty of Environment, they were joined by a team of faculty, administrators, and funders who shared their vision, and Change Lab has been evolving ever since. For instance, since its pilot, the program catalyzed the introduction of SFU's Charles Chang Certificate in Innovation and Entrepreneurship, as well as new partnerships with the Beedie School of Business, Faculty of Health Sciences, Semester in Dialogue, Cities of Vancouver and Surrey, and more.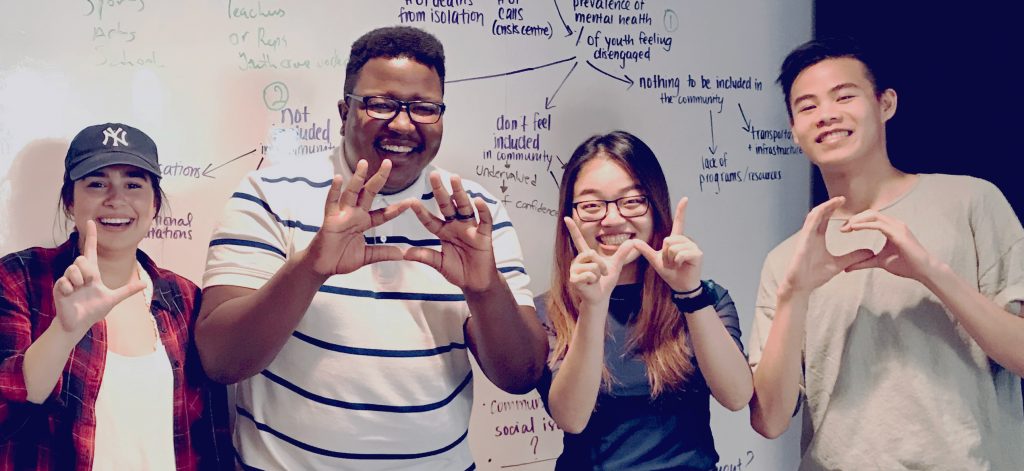 RADIUS SFU has been a proud steward of Change Lab since 2015. The 10-year milestone is a great place to press pause and engage with our network of stakeholders to make sure the program serves students and our university community as best as possible.
RADIUS and our partners will not be running the Health Change Lab in Fall 2021 or the Civic Innovation Change Lab in Spring 2022 . Instead, we're reviewing the program alongside the Beedie School of Business and Chang Chang Institute for Entrepreneurship on how it sits within the curricular framework of the university and innovation certificate. We encourage students to sign up for our email alerts to be notified of the different student activities that RADIUS will be organizing over the next year, to follow us on Facebook, Instagram and Twitter, and to seek out other opportunities for experiential learning and campus changemaking during our break in offering Change Lab (see: Chang Institute for Entrepreneurship, Venture Connection, SFU Public Square, Semester in Dialogue, Embark, Passport2Leadership, Engaged Global Citizenship Community and more!). We look forward to welcoming students into this stand out program again next year. 
Here's a look back at some of Change Lab's incredible highlights and impact:
When I was in Civic Innovation Change Lab, I actually met the person who is now my boss at the Hubbub event! I think he was impressed by the calibre of work we were doing. I'm really grateful.
Civic Innovation Change Lab did what my other courses couldn't. It allowed me to develop hard skills like critical thinking and problem solving and softer skills like stakeholder management - in a real-world scenario.
I have a soft spot for Change Lab. I'm a finance-accountant major and out of all my internships and extracurricular activities at SFU, Change Lab has been my absolute favourite experience so far.
Change Lab built on our capabilities as students and innovators to bring real solutions to problems. Change Lab gave me the confidence to realized change in my community.