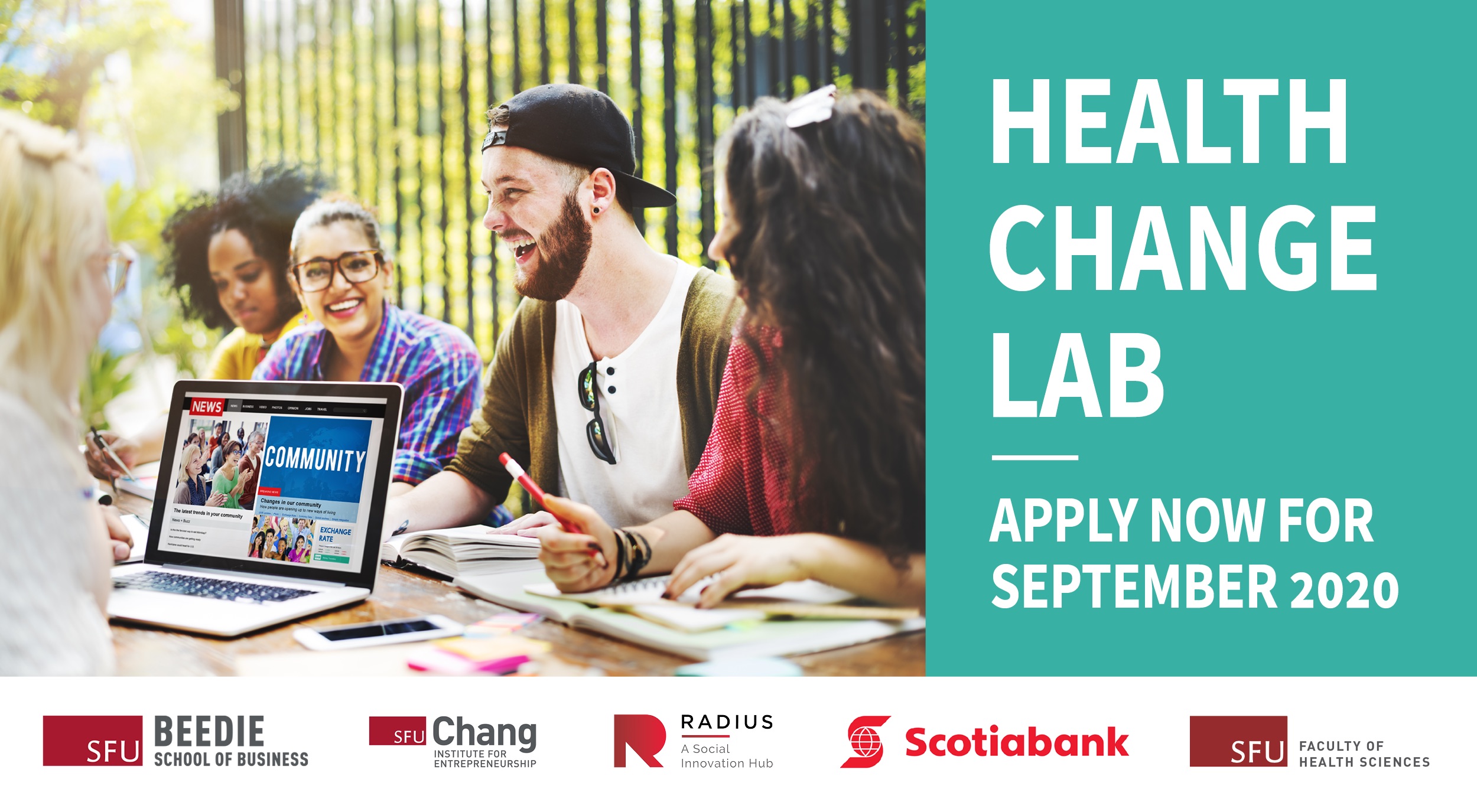 Are you hungry to build real-world solutions to societal problems? Apply to be one of the 20- students in SFU's Fall 2020 Health Change Lab cohort! The program is like no other. You'll work in interdisciplinary teams with other 3rd and 4th year students from across the university. The program will engage you as change-makers in the contexts of your community as you build partnerships to tackle complex social, economic and environmental problems with the City of Surrey. It is not just a course, but a process that can be used to catalyze social innovation efforts beyond the classroom.
Health promotion is the holistic look at ways to empower people and communities to improve their health and wellbeing. You do not have to be a health science or business student. In fact, we encourage students from any discipline to apply, as true innovation comes from synthesis. 
Change Labs have been running at SFU since 2011 and students have described it as the highlight of their university experience:
Health Change Lab is unlike any other course at SFU; it doesn't have exams or lectures, it is an opportunity to apply your knowledge in the real world. Coming close to the end of my degree, Health Change Lab was a formative experience that encouraged me to use the theoretical knowledge I have gained in the last few years to create the foundation for real change in my community.
-Health Change Lab Alumni
This is the kind of program that changes your university experience. You can work towards a goal to genuinely improve yourself while getting a great opportunity to actually try to build a business from its roots. The atmosphere of the class is inspirational, and your fellow students are all passionate and cool people. Highly recommended!
-Health Change Lab Alumni
Health Change Lab Fall 2020 is an interdisciplinary program that seamlessly integrates BUS 453 (Sustainable Innovation – 3 credits), BUS 494 (Iteration and Prototyping – 3 credits), and HCSI 495 (Applied Health Sciences Project – 4 credits). These courses count toward the electives and capstone of the Charles Chang Certificate in Innovation and Entrepreneurship, and toward the Beedie concentration in I & E. 
Speak to your academic advisors to find out more about how the Fall 2020 Health Change Lab fits your degree. 
Applications are open from April 15th – August 15th. 
Spots are limited and application reviewed monthly. Apply early to avoid waitlisting!!