About this time last year, I was strolling through Water Street on my way back from work, with tourists mingling around me. It was hard to miss the shopping bags they carried – and equally as hard to not imagine what they've purchased. Clothing. Gifts. Souvenirs.
Something to remind them of their visit to Vancouver, Canada, a city that welcomed more than 16 million visitors last year alone (Tourism Vancouver, 2016).
Our idea for Woodpickers did not begin then, but in 2015 as an SFU ChangeLab project called Wood Source Co-op, where myself and three other interdisciplinary students teamed up to reduce landfill wood waste by connecting material users with suppliers to strengthen the circular economy in Strathcona, Vancouver. Our project inspired me to apply what I've learned to Woodpickers.
Now two years later, my partner James and I are excited to combine our love for the environment as SFU Faculty of Environment students with our shared experience in tourism, retail, woodworking, and design, to introduce a line of sustainable souvenirs into the Vancouver tourism market.
We're motivated by the lingering questions that keep us up at night:
What if souvenirs could be more than just a keepsake or a product?

What if souvenirs, and their make, can be more transparent and accountable to the environment around us?

What if souvenirs could be tools of dialogue to discuss "hot" topics like climate change and environmental conservation by transcending borders, culture, and countries?
Over a six month period, we spoke and connected with many people over the Lower Mainland who spoke to us about their dissatisfaction with the souvenir shop industry.
Not all products are sourced locally. Manufacturing processes are mostly outsourced to countries where labor conditions and environmental regulations are less stringent. Most importantly, there is a lack of transparency within a souvenir's supply chain, and not all wood-based souvenirs are made from sustainable sources. Who knows whether a wooden souvenir one buys does or does not contribute to deforestation at home or abroad, if a system isn't in place to make the process transparent? Transparency leads to accountability, as I learned in BUS 475 – Sustainable Operations last summer, and paves way to shifts in mindset across an entire supply chain and later, industries.
So where does Woodpickers come in?
Woodpickers is a social enterprise that diverts wood waste from landfills by upcycling scraps like pallets and flooring into west – coast inspired souvenirs. We hope to encourage tourists to shop sustainably in Vancouver while they're here, and also to start conversations about how tourists could help leave a positive legacy behind in a country or city they visit, even as they take a souvenir back home as a memento.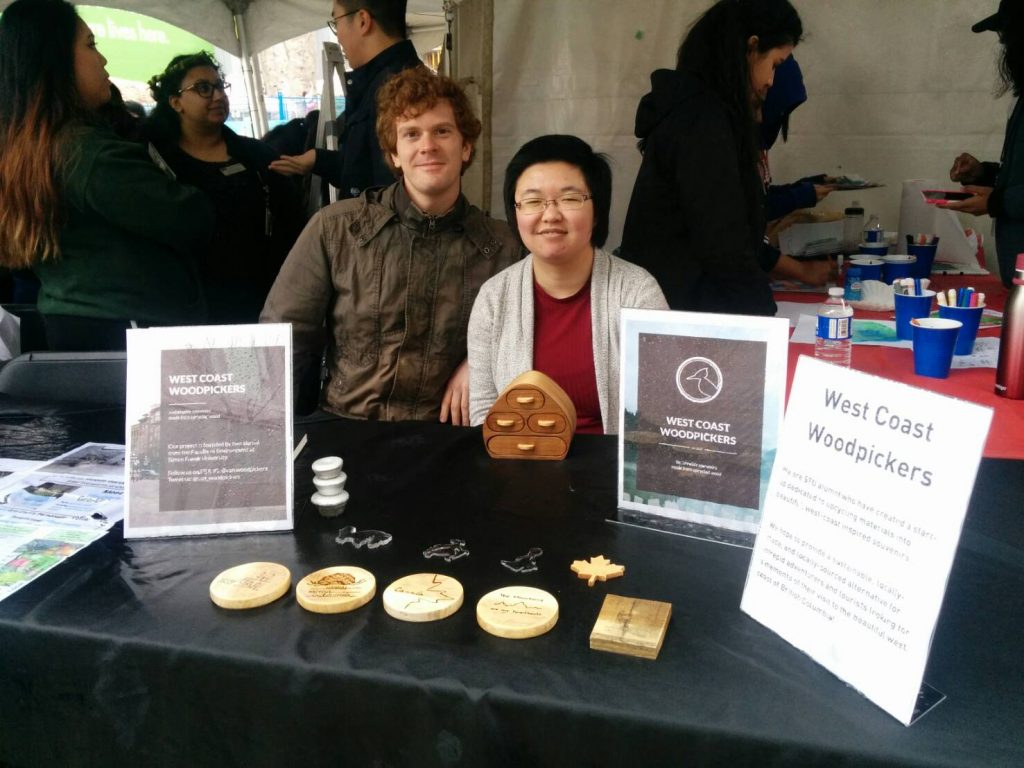 Essentially we have a mission to innovate the souvenir shop industry so that not only products are locally made, or locally-sourced, they also impart agency with tourists, to spur positive change in their own communities. As for locals – we hope to encourage residents to "upcycle", to better conserve and improve the communities in which we live and share with the nature around us.
Thanks to RADIUS SFU and Embark Sustainability, we were able to launch our online shop and develop a manufacturing process that we're proud to say is locally sourced and hand made. 
We're excited to:
   

Support our suppliers by showcasing the businesses and residents contributing to our waste diversion ecosystem through an interactive supplier map with local features.

   

Attend local craft fairs, markets, and events to educate locals and tourists about upcycling, sustainable souvenirs, and how they could become part of the solution

   

And partner with organizations, charities, and businesses involved in the social, economic, and environmental spheres to raise awareness towards their causes.
Thank you for your support,
Michelle
This blog post, written by Michelle Chen (Cycle 3 awardee, 2016-2017), shares insight into the problem space, their project, their experience with the Social Innovation Seed Fund and what they were able to do with their seed grant at the time of funding. Please note that some projects may have changed since.