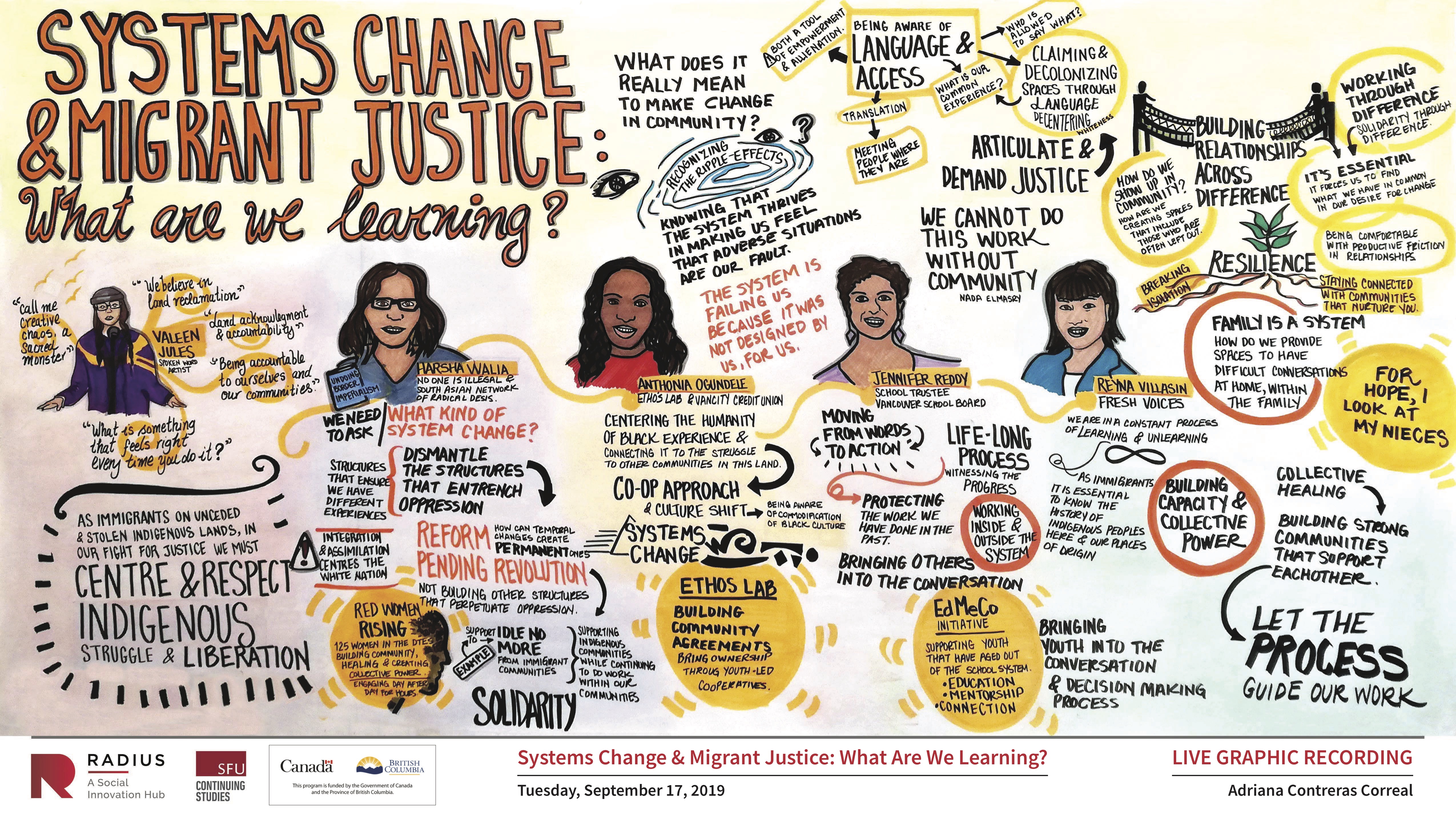 The word migrant contains a huge range of different identities, journeys, and experiences. It can mean people who have come to these lands as refugees, who have immigrated, who are international students, stateless people, people with various legal and employment statuses. These differences have impacts on people's lives. For example, migrants without permanent residency have restricted access to social services, and often face exploitative labour conditions with few fallbacks to ensure their labour rights, while others have access to more support and wealth. Many are facing discrimination on the basis of race, religion, gender identity, sexual orientation and ability here in Canada, and in their countries of origin. Some are here by choice, and others fled to arrive here with few options. All, regardless of these differences, currently face a climate of increasing xenophobia and anti-migrant narratives world-wide.
The Refugee Livelihood Lab has been looking for an answer: what does it really take to make change in systems to benefit diverse migrant communities? 
The Lab has held two cohorts, both working to shift systemic barriers and generate opportunities for thriving livelihoods in Surrey, unceded Katzie, Kwantlen, QayQayt, S'ólh Téméxw (Stó:lō), Stz'uminus, W̱SÁNEĆ territory and Tsawassen (sc̓əwaθenaɁɬ təməxʷ) Treaty territory. On September 17, 2019, through jokes, impact stories, and futurisms, Nada El Masry, Refugee Livelihood Lab Project Manager, shared some of her learnings from this past year before introducing five guest speakers who have made it their life's work to centre the voices of this land and the voices of people who have been forced to leave their own: Valeen Jules, Anthonia Ogundele, Harsha Walia, Jennifer Reddy, and Reyna Villasin. 
Although the panelists represented many different fields of service, paths to leadership and methods of achieving systems change, there were four overarching themes that point to lessons for emerging migrant leaders hoping to shift systems towards more justice.
Practice Decolonial Love: A very important part of change is what it feels like in our hearts, spirits, minds and bodies. The evening opened with Valeen Jules offering a poem and land acknowledgement, and gave the gift of one collective shiver down the spines of the audience. Valeen didn't have to grow up far away to feel the displacement of colonialism, and you can witness her poetry here. Valeen set the tone for the evening as she invited us to experience decolonial love, a practice of truth telling, accountability, and reclamation of dignified relationship and more that can only be experienced for yourself. Reminding us to remember what supports us in life, Valeen invited us to collectively answer the question, "What is one thing that feels good every single time you do it?".
Go Beyond Representation to Build Collective Leadership: Anthonia Ogundele summed up this theme when she affirmed, "It's not a matter of working hard enough, systems change is about building collective power not just talking to people at the top." Anthonia runs Ethọ́s Lab in Surrey, focusing on Black youth leadership. The conversation made clear that while each of the panelists had experience working in traditional bureaucracies, their learning is about creating more collaborative leadership structures, listening intently to voices on the margins, and looking outwardly to community for direction. Jennifer Reddy, an elected School Board Trustee, reminded us, "We need community witnessing, people coming into the meetings. Just a representative with a seat at the table isn't enough."
Create Communities of Belonging Across Difference: Several panelists spoke of feeling like outsiders when doing systems change work, even when their work is showing results. They spoke of challenging the tendency towards isolation as leaders, and building spaces where people WANT to be, nourishing spaces that balance working on problems with celebrating life. There are so many ways for Indigenous, Black, and People of Colour to feel like outsiders in the systems change community, but the panelists reminded us that our strength comes from the relationships we hold. Relationships foster trust and systems are built on trust. Reyna Villasin reminded us that these conversations about belonging are also important to bring to our own families, and that this is a challenging place for many people that needs more support and visibility.
Remember, There is Always a New Margin to Be Invited In:  The panelists agreed that justice and systems change only comes when it moves with Indigenous people, when it moves with Black people, when it moves with Undocumented people, when it moves with the lands we stand on. And yet, the night was also a reminder that we don't always know who is missing, and that when we discover who is missing, we must take time to move with them too. We learn who is missing by hearing their poetry, their stories, their experiences, and transforming that feeling of being an outsider. Migrant communities are incredibly diverse, and there are many differences and conflicts to bridge within our communities. This work is ongoing. Nada El Masry affirmed that in reality migrants are insiders who know the deepest parts of the problems and in working together can make huge shifts to the patterns holding problems in place. 
This night launched the beginning of the second Beyond Borders cohort, a group who will be creating their own systems change projects based on community feedback. Stay tuned for more reflections from this group of 20 deep and inspiring leaders!
Curious about the Refugee Livelihood Lab? Click here for more information.