We're excited to introduce the 2020 RADIUS Fellowship cohort!
This group of emerging leaders join us from Metro Vancouver's exciting community of changemakers. Their diverse backgrounds led each of them to work in a variety of fields, from education, to tech, to health, in many of the region's notable non-profit organizations and social ventures.
In the RADIUS Fellowship, these twenty innovators will spend four-months developing their personal and professional capacities, growing their networks, supporting each other and building connections across the social innovation ecosystem.
Program sessions take place weekly at the RADIUS Hub under the leadership of Fellowship Co-Facilitators Aslam Bulbulia, Laura Gaaysiigad Cuthbert, and Nigel Mojica. This year, the Fellows and Facilitation team benefit from the exceptional support of our Advisory Committee: Alexander Dirksen, Camille Dumond, Candice Day, Michelle Lorna Nahanee and Vanessa Richards. 
To learn more about the Fellowship program, the Facilitators and Advisory Committee, click here.
Meet the 2020 Fellows, below!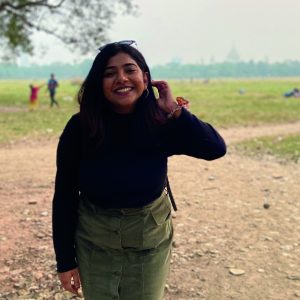 Aahelee is an undergraduate student with a double major in Sociology and Anthropology. She finished her first two years at Douglas College and hopes to transfer to SFU over the coming semesters to finish her bachelor's from there. Over the two years at Douglas, she has worked for two different departments (International Office and the Students' Union). She loves going on field trips with her professors. She claims herself to be an intersectional feminist. She calls herself a bibliophile. Aahelee takes her school seriously and she has proved to be an exceptional leader in different social settings. Between her school and work, she dedicated the sliver of leisure time to volunteer with Downtown Eastside Women's Centre. As a result of working with the Douglas Students' Union Aahelee also represented a cohort of international students at the British Columbia Federation of Students (BCFS). To add, I would say, Aahelee is extremely passionate about social issues and something which ignites her curiosity and can never escape her. In a nutshell, you won't regret having her over for a coffee to discuss the current global issues. Aahelee is trying her best to be the change she wants to see!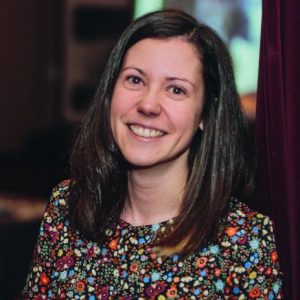 Anne-Marie is a white settler who recently moved from Montréal/Tiohtá:ke to the unceded territories of the Musqueam, Squamish, and Tsleil-Waututh Nations, after completing a master's degree in Human Development at McGill University. As part of her graduate studies, she became interested in restorative justice in education and social-emotional development as a response to victimization, discrimination, and bullying in schools, with a specific focus on LGBTQ and marginalized youth. She continues to interrogate these important issues in another capacity, acting now as Program Manager of the Schools Initiative at the North Shore Restorative Justice Society, a non-profit organization in Metro Vancouver. She's committed to systems change that supports the development of strength-based relational practices that nurture diversity, equity and inclusion, and the health and well-being of all members of the school community. She also believes that meaningful social change can happen, especially when youth co-create a sense of belonging in this world.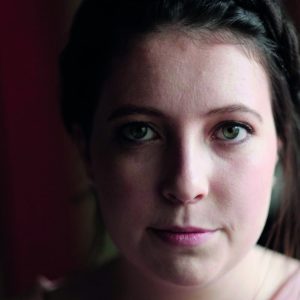 Beth Dennis is a passionate anti-racist educator who is driven to create sustainable positive change in the local community. Beth studied sociology and psychology at the University of British Columbia before pursuing her master's in social justice education at the University of Toronto. Her research and work focuses on the pervasiveness of White hegemony within Canadian post-secondary institutions and developing strategies to disrupt this. She is currently working as a Student Engagement Coordinator at Simon Fraser University, with the goal of creating more inclusive and equitable programming and communities within the institution. When not working, you can find Beth watching sports, reading or baking cookies!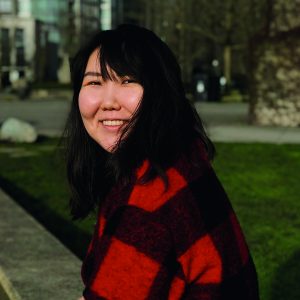 Ekaterina 'Kate' Potapova has immigrated to unceded Coast Salish territory, also known as so-called BC, from Yakutsk, Republic of Sakha, Russia. Kate spends most of her time imagining and mobilizing for a fossil-fuel-free, just, and fair world. Moved by love and dreaming, Kate centers people in everything she does – whether it's building a more accessible and inclusive community for the not-for-profit, Hollyhock, that she works at, or scheming climate justice actions with Our Time, 350Vancouver and Greenpeace Local volunteer group. Challenging -isms of our societies, finding giggles and silliness in any endeavour, and being a yes-person to any adventure bring her the greatest joy. Kate practices native Sakha peoples' belief in spirits of nature and self claims herself daughter Earth, so you may find her exploring forests and running through flower fields often.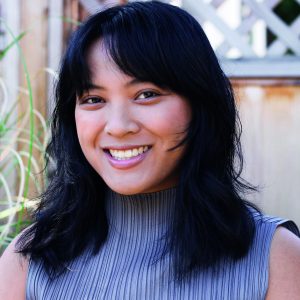 Elysse Cloma is a second generation Filipino-Canadian settler based in Vancouver. With a degree in Equity Studies from the University of Toronto, and a certificate in New Media Design and Web Development from BCIT, Elysse tends to gravitate towards work where she can pair her passion for social justice with her skills in multimedia design and writing. Elysse envisions shifting the status quo through capacity building, advocacy, and media representation for underrepresented groups. Some of Elysse's past work includes marketing communications at the YWCA Metro Vancouver, editing for SAD Mag, and launching re:asian magazine, an online platform for diasporic Asian voices across Turtle Island. She is currently working with The Future is you and me to support BIPOC, self-identifying women, non-binary, and gender diverse artists in music. She uses her personal art practice to explore her hybrid, diasporic Filipinx identity, tenderness, and healing through music.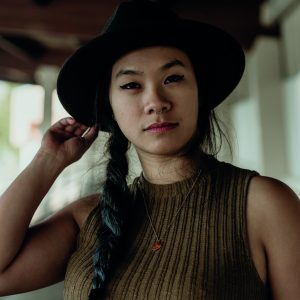 Emily Tsang (泳伃) is a 1.5 generation East Asian-Canadian femme who has spent the majority of her upbringing on unceded Coast Salish Territories. She is a self-taught freelance filmmaker, photographer and podcast producer who specializes in documentary-style pieces. With a professional background in communications for non-profit organizations and a degree in International Development from the University of British Columbia, Emily is fascinated by the idea of using storytelling and citizen journalism to empower underrepresented voices in our communities. Over the past year, Emily has been learning to use different forms of art to explore her own intersectionality and personal history. She recently completed an Arts Residency at the Pride in Arts Society where she debuted her first live mixed media performance about the democracy movement in Hong Kong. Apart from her creative work, Emily can be found experimenting with different types of fermentation, attempting headstands at the yoga studio and on the bike chasing sunsets and the perfect soup dumplings.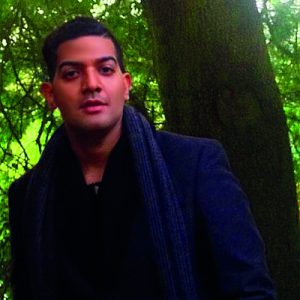 Born in Kisumu, Kenya, Imrahn was privileged to grow up amongst the exquisite beauty of the East African landscape. Gravitating from an early age toward social activism and systemic change making, he was invited to participate as a junior ambassador of Canada in trade delegations to China & Malaysia, & with the Next-Up program at the Canadian Centre for Policy Alternatives, which assembled up-and-coming civic leaders from across British Columbia. The exposure stoked a deep appreciation for the importance of meaningful representation for racialized, and minority communities within the traditional decision making spheres.  
This interest led him to Law School, where he graduated with top academic honours and was recognized as an accomplished debater and trial presenter. He was recently selected by City Hive Vancouver, as a City Urban Influencer with the NSYC Forum. Most recently Imrahn co-founded the Canada-East Africa Legal Scholars Alliance, which brings together scholars from the East African community and Canada, collaborating on matters of social justice, commerce and economic policy.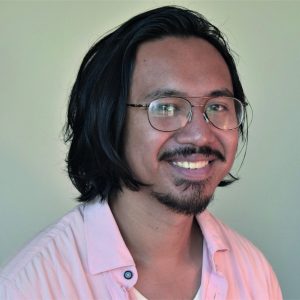 Jay is a first generation Filipino-Canadian settler, with a background in Animation, Video, and Poetry. With a Bachelor of Media Arts from Emily Carr University in hand, he pursues the emotional core of every project he works on, looking to take care of his audience and the people who work with him along the way. Both his personal work and professional work have screened internationally, notably having worked on properties for clients like Disney XD, Marvel Entertainment, and Cartoon Network. He has since worked independently, seeking out ways that media and animation can contribute more meaningfully in society. His mission is to promote criticality and vitality in his work, with current thematic focuses of Climate Justice, Therapy & Wellness, and Masculinity. Pro tip: avoid him at parties if you don't want to have long, deep, personal conversations.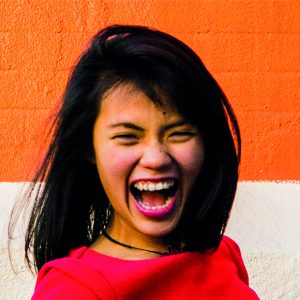 Jenny Tan is fascinated by power dynamics. She is particularly interested in increasing the impact and diversity of environmental movements. Jenny is a business development strategist and is currently the Director of New Client Relationships at Hamazaki Wong Marketing Group. She has also worked as a journalist, both in print and audio. During her tenure as a reporter for Postmedia, she was half of a two-woman newsroom and produced an award-winning feature on Filipino immigrants in the Prairies. Jenny has also produced a podcast series, with stories on climate change and race. In a past life, she analysed federal agricultural policy, worked in political consulting, and handed out pamphlets at Skytrain stations encouraging Vancouverites to vote. Jenny feels fortunate to speak English, Mandarin, a smattering of Chinese dialects, and rusty French. In her spare time, she makes jewelry and frolics in the natural beauty of the Pacific Northwest.
This interest led him to Law School, where he graduated with top academic honours and was recognized as an accomplished debater and trial presenter. He was recently selected by City Hive Vancouver, as a City Urban Influencer with the NSYC Forum. Most recently Imrahn co-founded the Canada-East Africa Legal Scholars Alliance, which brings together scholars from the East African community and Canada, collaborating on matters of social justice, commerce and economic policy.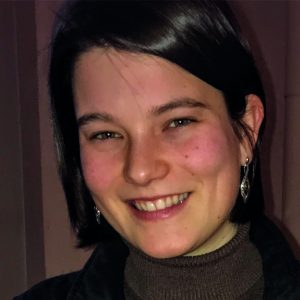 Kaylie is a facilitator, life-long un/learner, and white settler living on unceded Musqueam, Squamish, and Tsleil-Waututh lands. She cares deeply about the world and creating a more socially and environmentally just present and future. Kaylie graduated from Global Stewardship at Capilano University and Global Resource Systems at UBC, where she focused her learning around sustainable food systems, Indigenous rights, decolonization, and storytelling. She loves to learn and is curious about the emotional impacts of injustice and environmental degradation, the possibilities of art and storytelling in creating change and building community, and how to support healthy relationships with the places and communities where we live. Kaylie currently works in learner-centred, experiential education, striving to support others in connecting with their own gifts and social and ecological communities. She also contributes to a local zine and Truth and Reconciliation reading group, and loves to knit, sing, grow food, and spend time outdoors.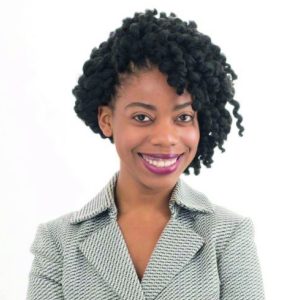 Kevonnie is a Business Analyst at Vancouver Coastal Health. Originally from Jamaica, she is a graduate of UBC and has been living and learning on the lands of the Musqueam, Squamish and Tsleil-Waututh peoples for the past 7 years. She is passionate about seeing people reach their full potential and does this through developing, implementing and managing the processes involved with improving peoples workplace experiences – especially the experiences of those most marginalized. When you don't see her at the gym, doing yoga, or hanging out with friends, you will find her active in the black community as she currently sits on the board of the National Congress of Black Women Foundation as well as the City of Vancouver's Racial and Ethno-Cultural Advisory Committee.
This interest led him to Law School, where he graduated with top academic honours and was recognized as an accomplished debater and trial presenter. He was recently selected by City Hive Vancouver, as a City Urban Influencer with the NSYC Forum. Most recently Imrahn co-founded the Canada-East Africa Legal Scholars Alliance, which brings together scholars from the East African community and Canada, collaborating on matters of social justice, commerce and economic policy.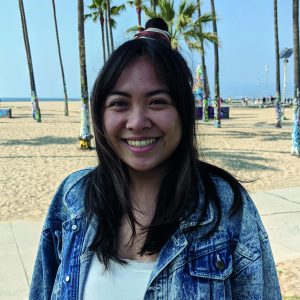 Khayla is a curious social innovator who is constantly finding ways to learn more about how the world works and how to combat complex systems. Coming from a business background, Khayla has merged her passions for social justice and her education by working in social innovation and social entrepreneurship. She has experience with strategic planning, program development, design thinking and equity centered design, and is curious about how large organizations can embed social innovation concepts in order to be more socially and environmentally responsible, and relationships centered.
Khayla currently works at TakingITGlobal, where she is working on a new strategy for alumni Engagement that is rooted in relationships, equity, diversity and inclusion. She enjoys catchy music and a genuine laugh.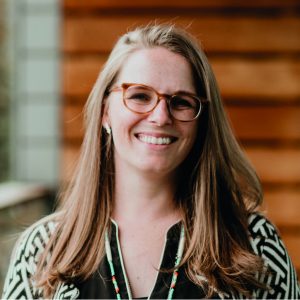 Laurel Dault is a connector, community builder, and camping enthusiast. 
As Social Innovation Manager at Hollyhock, Laurel produces and co-facilitates Social Venture Institute, a series of conferences for mission-driven leaders and social entrepreneurs. Laurel is passionate about leveraging business to do good and impact investing, all with a curiosity around how these systems themselves maintain the status quo. Laurel's work in leadership and innovation has brought her from the Banff Centre for Arts and Creativity, to THNK School of Creative Leadership in Amsterdam, to Female Funders in Vancouver. 
Laurel holds an MSc in Developmental Psychology from Queen's University, has trained as a Coach with CTI, and (most formatively) spent many years performing as a comedic improviser. Laurel has stopped trying to hide her inner goofball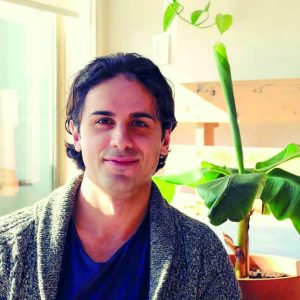 After completing a Master's degree in Geography at the University of Guelph, Miguel Santos became fascinated by the multi-dimensional challenges and opportunities situated at the intersection of business and sustainability. While nurturing a burgeoning interest in social entrepreneurship, Miguel quickly went to work understanding how to design mechanisms and initiatives that change the relationship between businesses and social/ environmental responsibility, while raising the current "standard" of sustainable business. Miguel is currently building a unique change agency model in the form of the Cordillera Collective – currently validating an impact-oriented sustainability certification that works to transform businesses into global leaders of sustainability performance and impact generation. Having recently moved to Vancouver in the fall of 2018, Miguel is excited to join the RADIUS Fellowship, hoping to make valuable connections while learning more about localized histories and the role of power and privilege in modern society.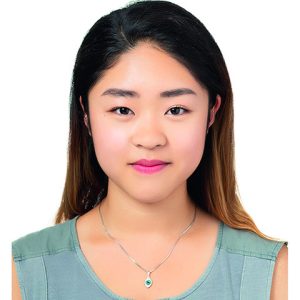 Min Park is an avid traveler and an eager learner.  She recently graduated from Quest University Canada with academic focus on international political economy and data science.  Navigating the intersections of social impact and information technology, she is curious and driven to engage with her communities on the efficacy and ethics of data and algorithms.  She has a geographically and culturally diverse background having lived in seven different countries yet is always ready for the next journey. As an in-betweener, she lives in a gray area in the messiness of borders and is constantly thinking about her positionality and role in societies.  She gets inspired by the incredible people in her life and thrives as a proactive listener and a facilitator. In her free time, you can find her drinking tea and reading or listening to her favorite podcasts (she can't do both simultaneously!).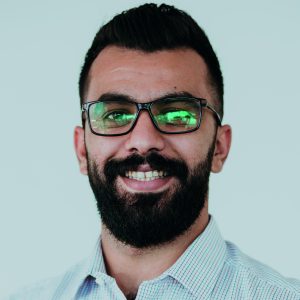 Mohammed is a business professional who graduated from the University of Palestine/Gaza with honors in the field of Business Administration and Accounting studies. His professional background is in various fields such as a university lecturer, sales administrator and operations manager, and a project coordinator. Seeing the challenges people around the world face on a daily basis, Mohammed has directed his educational and professional experience towards easing and solving life's difficulties and ending violence. He has seven years of experience promoting democracy, supporting the development of an organizational culture that reflects the full programming spectrum (humanitarian development) value, accountability and high performance. In 2010, Mohammed received a scholarship sponsored by U.S Department of State and the Bureau of Educational & Cultural Affairs (ECA) to spend one academic year in the United States as an exchange student and an ambassador for peace. Since then he has carried the mission of making the world a better place and help others.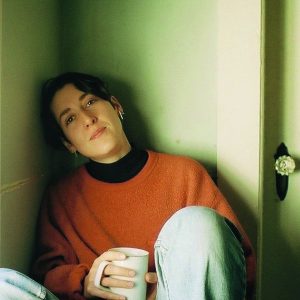 Morgan Wheeler grew up where the Athabasca and Clearwater Rivers meet on Treaty 8 territory. After completing a B.Sc. Environmental Geoscience and Geomatics at University of Guelph, they moved through environmental and transportation governance, private industry, and non-profit worlds while growing their passion for systems thinking and looking back to better understand where we're going. 
For the last seven years, they've been building relationships of trust and support on unceded Coast Salish lands, appreciating the communities who encouraged her to stretch her learning and unlearning. Her experience in the service industry, community organizing, relationship building, and interest in historical narratives and patterns have culminated in her role on the Directing Team for Populous Map and as Field Director for Hayashi Studios documentary.
Morgan moves through the world reflecting on how they view and participate in movements while reminding themselves to meet people where they are at (including their self).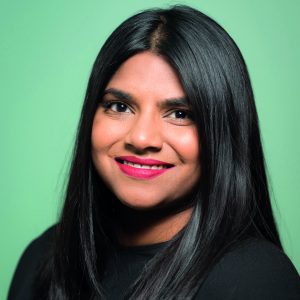 Rekha is a second generation settler residing and working on the unceded lands of the Coast Salish people. As a Tamil woman along with her life experiences and education, Rekha has developed a deep passion for justice and equity, which has informed and shaped her values and work both professionally and personally. Rekha has dedicated the past ten years of her career to the creative sector while working with ArtStarts in Schools. At ArtStarts, she has been working towards systems change in education so that access to art-based learning is considered essential and access to art experiences is equitable. ArtStarts in Schools exists to ensure that art is an essential part of learning, and is experienced by all students so that young people are supported and equipped with essential skills like creativity, critical thinking, and empathy to navigate an increasingly complex world. Rekha still recalls the role an art-based education played for her as a young person and is personally committed to ensuring that current and future generations also feel supported to thrive in learning and in life. Rekha's strengths are in strategic partnerships and systems change thinking, and is currently invested in building a network of values aligned peers across sectors to help desilo efforts and increase our collective capacity to achieve change in the education system.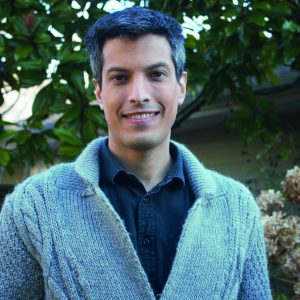 Steve Tornes has an inexhaustible passion for all things related to urban planning, data, politics, and literature. With a Master of Urban Studies degree from Simon Fraser University and a thesis on the Vancouver Bike Share Program, they look at the region through an environmental and equitable transportation perspective. Steve is currently working as a research assistant on a project looking at the effects of transit subsidies on the commuting habits of hospitality workers, which should be concluding shortly.
A North Vancouverite on the unceded territories of the Coast Salish peoples, Steve currently sits on the City's Advisory Planning Commission after having served as Chair of the Social Planning Advisory Committee. They can usually be found at their local library reading or getting immersed in some new subject, such as R Programming or wildlife photography.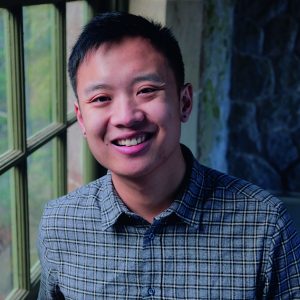 Tim Lam is a writer and digital strategist who specializes in marketing, content, and media, based in Vancouver, BC. At the heart of his work lies a deep love for storytelling and a belief that stories can transform the world. This curiosity has driven his winding career through the media and tech industry to his current role as Editor-in-Chief for Cold Tea Collective, a publication that tells stories for, and by, the Asian millennial diaspora, and as a digital marketer for the ad agency, Thrive Digital. Previously, he's led digital marketing efforts for the online news app, PressReader, and Vancouver Startup Week.
Tim is navigating his way toward making a social impact at the intersection of digital media, civic engagement, and community building. He graduated with a BBA from SFU and is a CityStudio alumnus. On the weekends, you'll likely find him dancing at a local concert, consuming his weight in noodles, or nerding out over obscure pop culture facts.