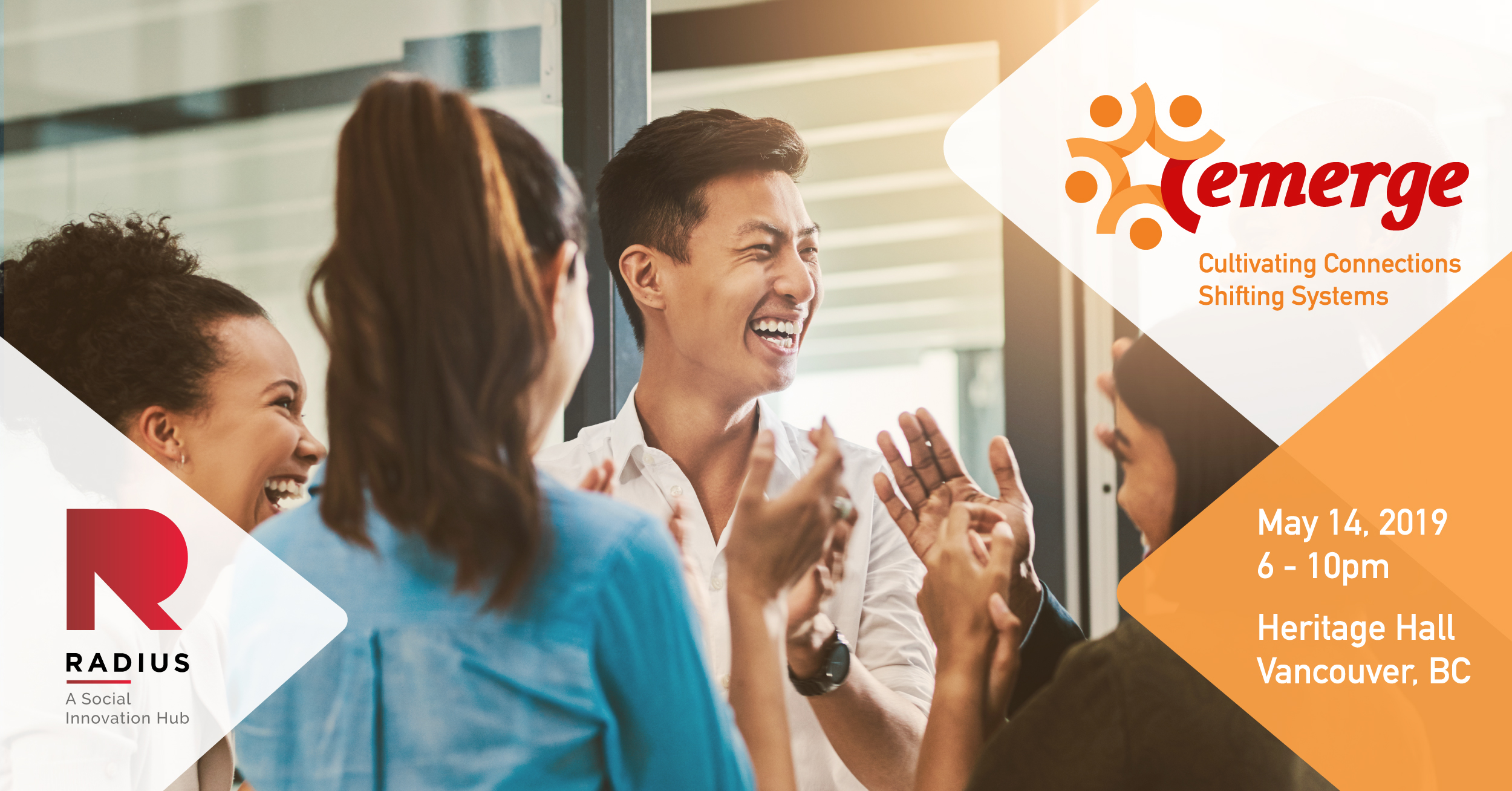 Connect with the RADIUS Fellows – changemakers on the leading edge of some of today's toughest problems!
You may know the amazing 2019 RADIUS Fellows, a group of emerging leaders from across Metro Vancouver. They have spent the last few months within the RADIUS Fellowship, exploring the systems they work in and their place within them. Each of them was selected because of their admirable dedication to deep systems-shifts within some of today's toughest problems.
Join us on May 14 for Emerge (formerly known as concAUCTION), an evening of relationship building and community problem solving, where Fellows will be looking to cultivate the relationships essential for their systems-change work.
Fellows are exploring topics from community mobilization, to the intersection of death and technology, to mental health for second generation migrant youth, and many things in between. Their interests are broad and experiences rich. Read more about them here.
Event Concept
During Emerge, each Fellow will introduce themselves and their work, and then host a short table discussion related to the current challenge or problem that they're focussed on. Attendees will be invited to join Fellows at break-out tables for short discussions where individuals can connect, and our collective wisdom can be leveraged to enable more positive change.
As a guest, you be invited to deepen your connections with like-minded individuals, share ideas, offer support, and receive a dose of positive inspiration from these changemakers and their work.
Recognizing that this event falls during the month of Ramadan, attendees will be invited to end the evening with a communal Iftaar (meal eaten at sunset to break the day's fast).
Event Agenda
6:00pm – Doors Open
6:00-6:20pm – Networking, Finger Food (provided), Beverages (provided)
6:20-6:30pm – Welcome
6:30-7:15pm – Round 1 of Fellows Conversation Circles
7:15-7:30pm – Break
7:30-8:15pm – Round 2 of Fellows Conversation Circles
8:15-8:30pm – Closing
8:30-9:30pm – Community Iftaar
Acknowledgements
This event takes place on the unceded territory of the Musqueam, Squamish and Tsleil-Waututh First Nations.
Accessibility
The venue is certified accessible and has one gender-neutral bathroom.
For the comfort and safey of all our guests, we request that you do not bring or wear scents/fragrances to this event.
Sponsors
The event is made possible with the support from our sponsors: