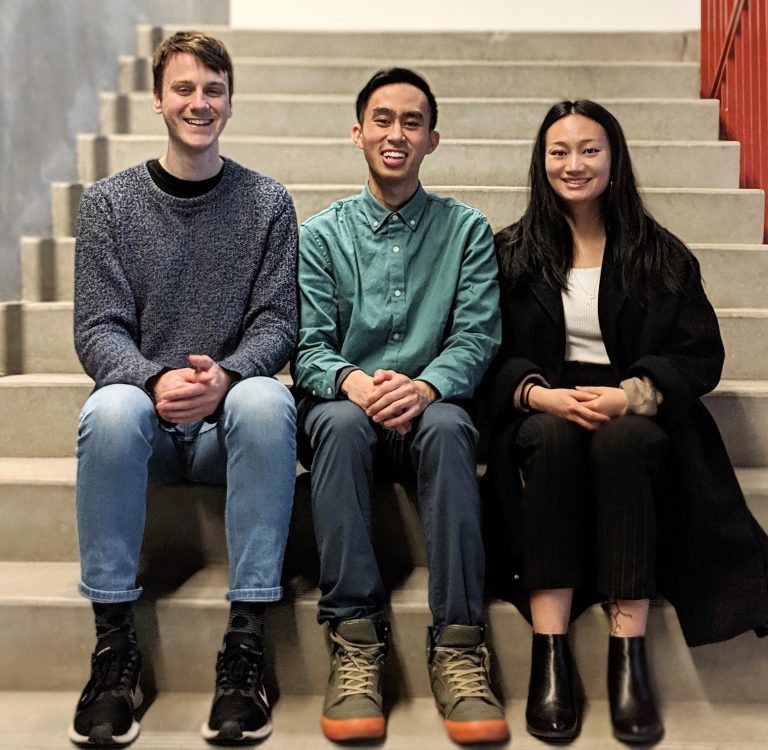 Former Change Lab students Adrian Genge, Alanah Lam,
Renmart

Buhay were recently awarded $3,000 from the Surrey Grand Award for their inclusive, innovative colouring book project.

Co-Colour is a Surrey community-based colouring book for refugee children aged 4 to 10. The team is co-creating illustrations for the colouring book with refugees and SFU student artists. The colouring books will feature the diversity of Surrey and include a narrative featuring a Syrian family navigating resources and key places in Surrey. Learning topics and resources that will be featured include: transit way finding, road safety, libraries, parks, community/recreation centres and cultural food places.

"We thought it could be used to ease the integration process for refugee families in a fun and informal way, by allowing children to discover and communicate Surrey's community resources to their families," said the team.

Artists and designers involved with the colouring book design include Ciaran Boyle, Justine Crawford, Graceleen Cruz, Theresa Melo, Luyi Wang, Therese Mah, and Jordon Fernandez.

Co-Colour sponsors and partners include SFU Student Engagement Competition, Options Community Services Society, and New Hope Community Services Society.

We spoke with the team about how their participation in Change Lab helped with the development of the project.

Read the interview and see a mockup of the colouring book below. And if you're interested in signing up for the next Change Lab cohort, learn more here.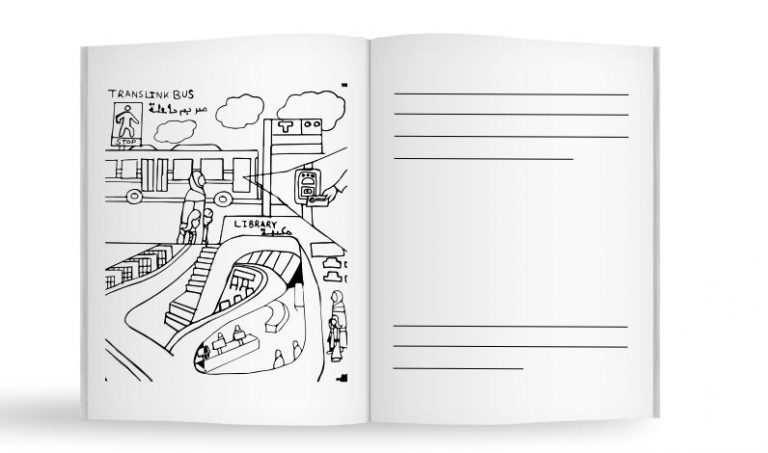 Why did you decide to work on this project for Health Change Lab?
We chose to explore the topic of inclusion that was highlighted in the City of Surrey's Sustainable Development Charter given our team's diverse cultural backgrounds. As we began meeting with newcomer community members we learned that there were gaps in the integration process and opportunities for innovation.
Why did you see a need for creating a colouring book like Co-Colour?
During our research phase we learned three key insights that led to a colouring book. First, connecting and building a sense of belonging in Canadian culture can be a difficult process for many refugees that arrive in Surrey. Second, many refugees felt overwhelmed with the amount of formal information – such as brochures and pamphlets – that they receive upon settlement. Third, refugee families often come to Canada to build a better life for their children, and children are the focal point for many newcomer families.
In what ways did the Health Change Lab program impact your development of the project? 
Health Change Lab allowed us to explore a complex problem in detail, helped us discover potential solutions to this problem, and then move an idea to a tangible project. HCL taught us skills in approaching partners and discussing our ideas, and using insights from these discussions to create an appropriate solution that allow for self-empowerment in our community.
HCL also showed us the importance of creating solutions together with our community by practicing empathy and active listening when interviewing or testing our ideas. The program modelled this by allowing students to give feedback and contribute to designing our own curriculum. The idea of co-creating our colouring book with newcomer families and multiple SFU student artists can about because of this.
How do you hope to impact the local community with Co-Colour?
We hope that the project will help newcomers learn about resources in their community and that this will make the integration process easier for newcomer families. We also believe that process of this project will teach us and everyone involved the challenges of being a newcomer in Canada. Lastly, we want to highlight all the wonderful resources and services Surrey offers to newcomers and show the strength and diversity of the Surrey community.
What are you most excited about as you move forward on the project?
Adrian: I am most excited about what we will learn during the upcoming discussions we have scheduled with new refugee families.
Alanah: I'm looking forward to connecting with newcomers and seeing what sort of impact we can create together in helping newcomers build a new sense of belonging in Canadian culture.
Renmart: I am looking forward to meeting all the children and families giving us input on the coloring book and learning from their experiences what makes Surrey such a great community to live in!
Join the next Change Lab cohort this fall! Learn more and apply here.