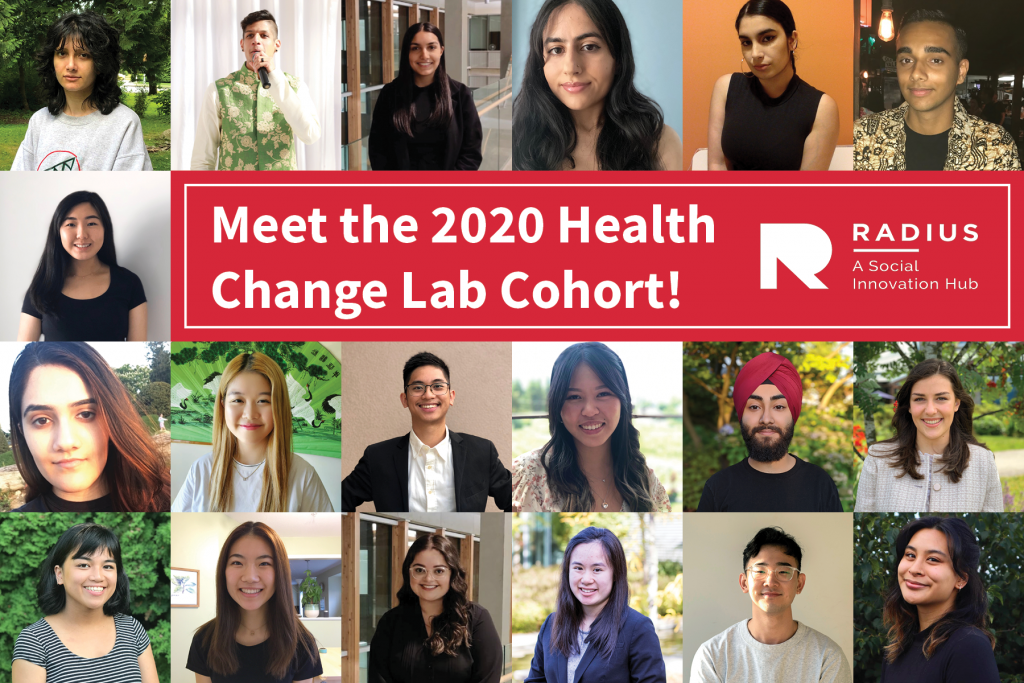 We're excited to introduce the 2020 Health Change Lab cohort! Over the next 13 weeks, this group of SFU students will work in teams to develop innovative ventures that address social, environmental, or economic challenges concerning community health in Surrey.
Health Change Lab is a once-in-a-degree immersive experiential learning program. Together, the 2020 cohort will investigate a local health issue, build a sustainable business intervention to respond to it, and pitch their ideas to community stakeholders. We are so excited to work with these emerging changemakers.
Hosted by RADIUS SFU, the Beedie School of Business, and SFU Health Sciences, Health Change Lab students collaborate with program partners and the City of Surrey on issues that are pertinent to the city. Students learn about social entrepreneurship, systems thinking, determinants of health, personal development, and effective team dynamics, and more.
Experienced instructors Paola Ardiles (HSCI), Tim Ames (BUS), and Alia Sunderji (BUS) will leverage their networks to bring in mentors and partners to enhance the student experience. 
Change Lab programs are generously supported by the Beedie School of Business, Scotiabank, and the Charles Chang Institute for Entrepreneurship. For more information on Change Lab and how to apply for future cohorts, visit radiussfu.com/changelab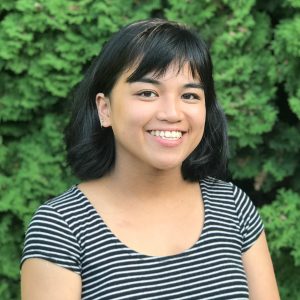 Alex is a fourth-year Health Sciences student with a concentration in Life Sciences. She is interested in the determinants of health, mental health, and health promotion strategies. With her major, she is able to explore how the hard sciences intertwine with the social sciences aspect of health sciences and is excited to see real world applications of health promotion. Aside from academics, she enjoys working out, photography, music, and watching anime.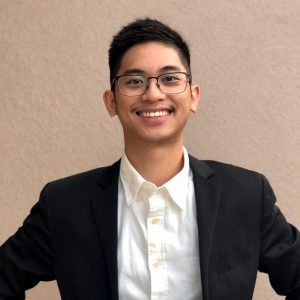 Alfred is a fourth-year business student looking to make use of his prior accounting experience in order to make positive and meaningful changes for the community. He values learning from the various perspectives of his peers and hopes to brush up his project management and leadership skills through the Health Change Lab's interdisciplinary platform. As an individual keen about healthy living, he is more passionate than ever to come up with preventive solutions given current environments. In his free time, he enjoys pursuing goals towards a healthier lifestyle, talking all things about basketball, and exploring nature on sunny days!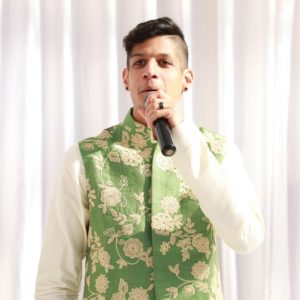 Amar Shah is an Economics, Business Studies, and Business of Innovation and Design student at Simon Fraser University. Amar loves to challenge and to be challenged within the spectrum of Human Centred Design with the expectation of learning new and unusual skills and of exposing himself to different fields. Otherwise, in his free time he tends to participate in survival expeditions and virtually flies various aircrafts. His concept statement states 'The inspiring revelations from the books "The New Confession of an Economic Hitman" and "Living With The Seal" with my upbringing from an impoverished and struggling society in Kenya has led me with the eureka moment that my future lays on nothing but as a not-for-profit entrepreneurial nomad in an era of encouraging sustainability and enthusiastic leadership.'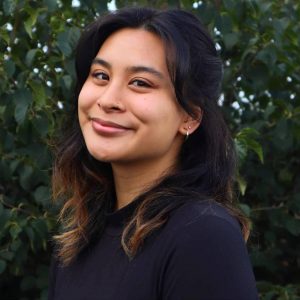 Fall 2020 will be Chriselle's last semester at SFU, and she will complete her Bachelor of Science degree in Health Sciences. She hopes to complete a Master's degree in Public Health with a focus in social policy to address the systemic inequities prevalent in today's society. Chriselle is passionate about providing tangible change for marginalized populations. In her free time, she enjoys cooking, baking, and trying new foods.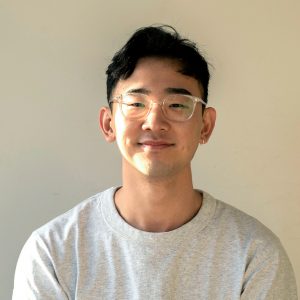 David (he/him) is a design student at the School of Interactive Arts and Technology. He has interned for various design companies ranging from agencies to non-profits, helping design for experiences that address real problems. For this semester, he looks forward to getting the opportunity to let his practice intersect with other disciplines to help create solutions in Health Change Lab.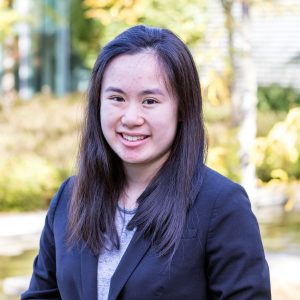 Emily's interest in taking part of Health Change Lab stems from her personal experience of social and health inequity, her relevant past experience in social innovation, and her passionate desire to create positive change on her community's well-being.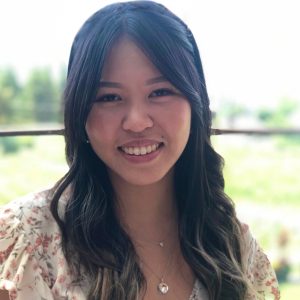 Gina is entering her final year pursuing a Bachelor of Arts in Health Sciences with interests in mental health and substance use disorders among marginalized communities. She is currently working with a team that analyzes multiple Vancouver-based overdose prevention and safe consumption sites which will assist in on-going research required to support these facilities. During Health Change Lab, Gina looks forward to expanding her scope of project management experience in order to build a sustainable business intervention that will help local communities with health-related issues. Beyond school, Gina hopes to raise awareness for anxiety and mood disorders and to normalize conversations surrounding mental health and the practice of mindfulness.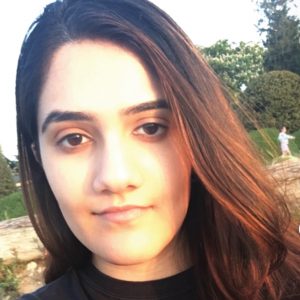 Humna is a fourth-year Political Science student with interest in equality and justice in Canadian politics. She views the Health Change Lab as an opportunity to gain insight on how best to face problems that plague our community and to develop plans to combat these deep-rooted issues. Moreover, she believes it is an academic experience that will prepare her for future opportunities that require critical thinking and collaboration. During her spare time, Humna is most likely exploring different parts of the city and drinking lots of coffee.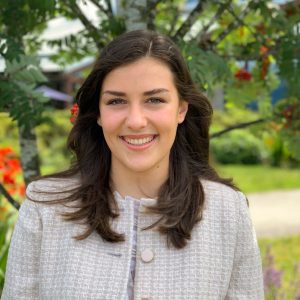 Janine is a curious student, dedicated instructor, and meticulous researcher who is excited to participate in Health Change Lab. She is in her final semester at SFU, majoring in Health Sciences, minoring in  Dialogue, and pursuing a certificate in Entrepreneurship & Innovation. Janine has a passion for amplifying the voices of underrepresented communities and looks forward to learning about different ways to advocate. In her free time, she likes to ski, hike, and listen to the playlists Spotify curates for her.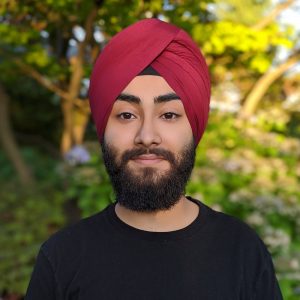 Jaskaran is in his third year pursuing a Bachelor of Science degree in Health Sciences. Since moving to Canada about three years ago, he has overcome challenges of integrating into a new society and now shares his experiences to help other newcomers. He has developed an interest in exploring mental health problems and is keen to expand his understanding of public health through the Health Change Lab. When not chasing his creative ideas, you can find him leading a nature walk, reading a book, or playing online games.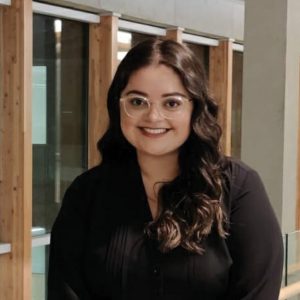 Jessica is heading into her fifth year in the Faculty of Health Sciences in the BSc. Population and Quantitative stream. She is currently involved with the Health Sciences Undergraduate Student Union (HSUSU) and FHS Peer Mentorship Program. Jessica is looking forward to getting some hands-on experience with health promotion and project development!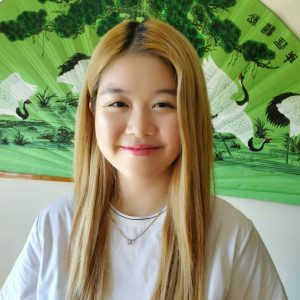 Joanne is a fourth-year Health Sciences student in the Bachelor of Arts stream. Thanks to her studies, she has a growing interest in social justice and wants to pursue a career that would attempt to reduce the inequities that affect marginalized communities. She enjoys exploring new perspectives, engaging in deep conversations, and spending quality time with friends and family. Through the Health Change Lab, Joanne hopes to continue contributing her ideas and working alongside others to create more sustainable and healthy communities.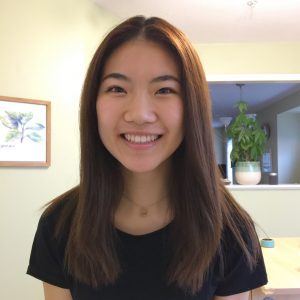 Kelly is a third-year BA Health Sciences student, minoring in Sociology/Anthropology and Gerontology. Her academic journey through Health Sciences continues to expand her interests in other fields linked to health, such as policy making, social innovation, and sustainability.
In her leisure time, Kelly enjoys doing hot yoga, indoor rock climbing, and volunteering for local events. Joining Health Change Lab, Kelly is excited to engage in discussions with an interdisciplinary team and shape ideas into user-friendly and contextual actions for local communities.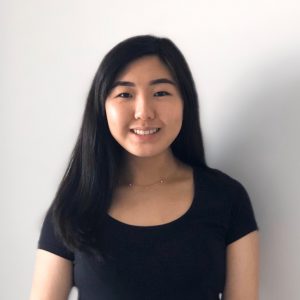 Lily is finishing up her Health Sciences degree with a minor in Communications. Her program has allowed her to see health and health care in a different perspective and is greatly interested in health promotion and health policies. She is excited to apply her knowledge learned from her program and benefit her community through Health Change Lab while also learning from the lab itself. Aside from school, Lily enjoys taking basic photo editing and photographing nature scenery and food.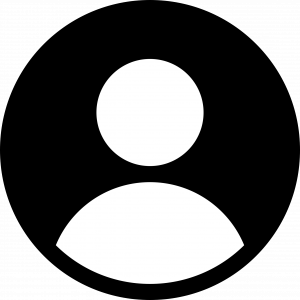 Nathan is a senior student majoring in Health Sciences in the Population and Quantitative Health Sciences Area of Emphasis. He also dabbles in economics, statistics/data science, and geography as part of his program. There is almost nothing that isn't too interesting for him to get involved although he is most interested in environmental health and public health right now, and how that can affect us all in the present and the future. Within SFU, he has worked with/in health policy researchers, Student services, Biological Science labs, and technology oriented student groups. In his spare time, he fumbles around on the mats for martial arts practice, writes for fun, and watches Youtube videos. Every winter he prays for enough snow at night to go snowboarding in the day.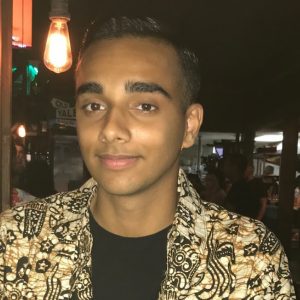 As a fourth-year Health Sciences major with a minor in Communications, Pratit has developed a passion for mental health and reducing the stigma across all racial, age, and socio-economic backgrounds. As a former volunteer and now co-coordinator of Hi-Five, a student-run mental health organization which directly works with SFU's Health and Counselling Services, Pratit has worked and conversed with several members of the SFU community about topics regarding mental health services, therapy, self-care, and so much more. In regards to the Health Change Lab, Pratit is driven to bring innovative methods to introducing and improving mental health initiatives and services across neglected communities. In his spare time, you are mostly likely to see Pratit watching sports, listening to music, or socializing with friends at various outings.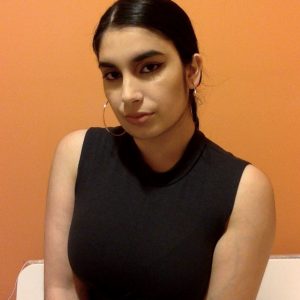 Serena is a fourth-year Health Sciences student in the Population and Quantitative Health stream. She is passionate about disability justice and supporting marginalized communities to receive the resources and rights they deserve. Her interests include politics, painting, and playing softball. Serena is excited to be a part of the Health Change Lab team and have a positive impact on the city she calls home.
Simi is a fifth-year student pursuing her BA in Health Sciences. Having worked with autistic individuals as a behaviour interventionist during her undergrad, Simi has developed an interest in working towards autism friendly healthcare environments in order to create a more comfortable experience. In her free time, Simi enjoys hiking, going on long drives, and spending time with her close friends. She is excited to meet like minded peers who aim to create a meaningful impact on the community and are willing to learn from one another.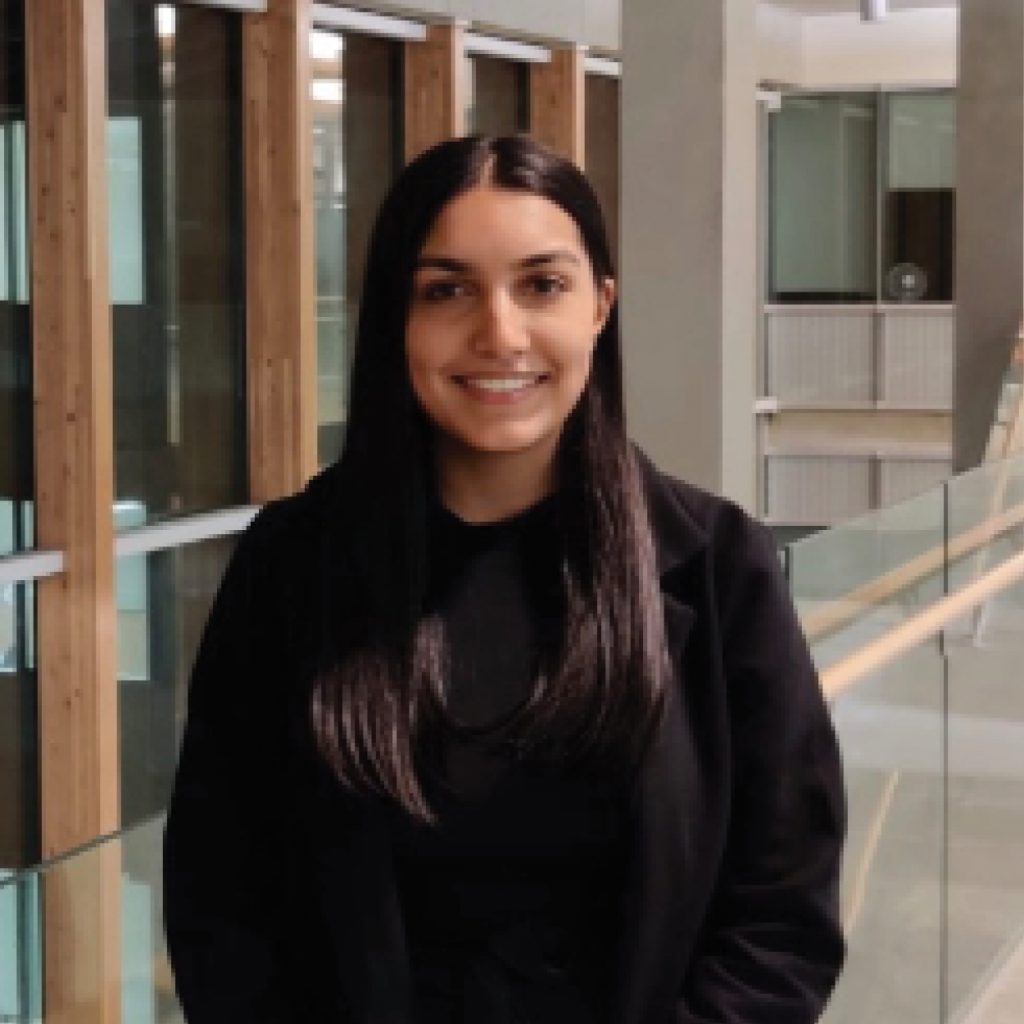 Simran is a fourth-year student in the Faculty of Health Sciences interested in health and social policy, health promotion, and epidemiology. Outside of the classroom, she is a part of the Health Sciences Undergraduate Student Union (HSUSU), mentors teenagers at the YMCA, and teaches dance at Herlocal Recreation Centre. She is very excited to take part in the Health Change Lab and (virtually) meet the rest of the cohort!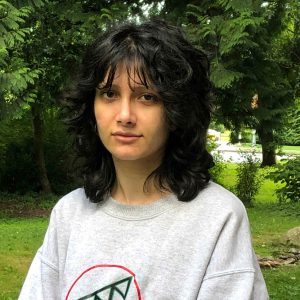 Zhina is a fourth-year Health Sciences student in the Life Sciences concentration. Her hobbies include painting, photography, writing, and playing the piano once every few years. Zhina is very passionate about topics of intersectionality in medicine and the overlap of mental health and the criminal justice system. She is excited to be a part of the Health Change Lab cohort this year and looks forward to collaborating with her peers!
Health Change Lab is made possible by the following partners: